Scots drug-related deaths fall slightly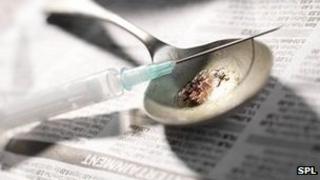 Drug-related deaths in Scotland have fallen slightly, but the total is the second-highest on record, according to the latest official figures.
There were 581 deaths in 2012 - three fewer than in 2011, said the National Records of Scotland.
Heroin potentially caused 38% of deaths, but methadone was implicated in 41% of cases.
That figure again led to calls to cut use of the heroin substitute to help users kick the habit.
The Scottish government, whose drug policy places a strong emphasis on recovery from addiction, pointed out there had been a fall in the number of deaths linked to methadone.
Elsewhere, the figures also showed a third of deaths - 34% - were among people aged 35-44.
Ministers also highlighted the fact that many of the deaths were older drug users suffering from years of deteriorating health.
Community Safety Minister Roseanna Cunningham, said: "First and foremost, we must recognise that these figures published today represent 581 loved ones lost by friends and families across Scotland and each of these deaths is a tragedy.
"It is encouraging that drug deaths statistics show fewer young people are dying.
"This is in keeping with wider statistics on drug use in Scotland that show a decrease amongst the general population, and that use by young people is at its lowest for a decade."
But Scottish Conservative MSP John Lamont said the government had to "urgently reduce" the number of people being handed methadone, adding: "For all the SNP's warm words in tackling Scotland's drug problem, they are no closer to getting to grips with this epidemic.
"For almost half of deaths to be linked to a drug that is supposed to help with addiction, is a damning indictment of the SNP's six years in power."
Labour MSP Graeme Pearson, a former head of the Scottish Crime and Drug Enforcement Agency, said the government must take more action on drug deaths, adding: "581 people losing their life from drug misuse is appalling, as is the fact that people are combining drugs, including methadone, to create a lethal cocktail."
But Scottish Liberal Democrat leader Willie Rennie warned against reducing the use of methadone.
He said: "Every death from drugs is a tragedy for every family and every community affected.
"Those who blame methadone for drug deaths ignore the number of lives it has saved over many years. It is part of the solution, not the problem."
The latest figures came in the wake of an independent review which recommended the continued use of Opiate Replacement Therapy, such as methadone, to treat heroin addiction.
The Scottish government is currently considering its recommendations.