Labour plans Scottish tenant welfare laws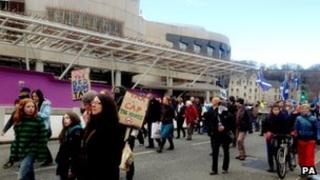 Scottish Labour has proposed new laws to "protect" housing tenants from eviction under controversial UK government welfare changes.
The party said it would bring forward a backbench bill to mitigate against the spare room subsidy - called the "bedroom tax" by critics.
SNP councils have said they would halt the threat of evictions for those with a spare bedroom whose benefits are cut.
But Labour said a single, Scotland-wide approach was needed.
The UK government said the welfare reforms were necessary to modernise the system and reduce the country's public spending deficit.
Scottish Labour welfare spokeswoman, Jackie Baillie, said: "With the impact of the bedroom tax becoming more apparent with each and every day, it is right that we bring forward a package of measures which will ensure that no tenant who is genuinely unable to pay the bedroom tax, loses their home."
She added: "The bill will help ensure that our most vulnerable are protected.
"It is for times like these that the Scottish Parliament was created and the bedroom tax is the perfect example of just how parliament could act now to make a real difference to tenants across Scotland."
Ms Baillie claimed the financial impact of the spare room subsidy on Scottish tenants was £50m - or less less than 0.18% of the Scottish government budget - but added that it was affecting 80,000 households.
Labour's bill, drawn up with the help of the Govan Law Centre, was part of a series of measures which also saw the party calling on the Scottish government to provide local authorities with extra funding to fill the financial gap caused by rent arrears.
'Moving money'
Responding to the proposals, Scottish Finance Secretary John Swinney said he would be prepared to look at constructive suggestions, but added: "We will take absolutely no lessons from Labour on the bedroom tax.
"They cannot hide from their failure to commit to scrapping it - underlined once again today by Ed Miliband - or their continued support for welfare decisions being made at Westminster despite the clear evidence that they are not in the best interests of the people of Scotland."
Mr Swinney added: "Labour also cannot hide from their obligation to say exactly where they want to cut money from in order to fund their proposals - what do they think should be axed to pay for it?"
The UK government has said taxpayers should not be subsidising people with larger homes.