MSPs who are jailed will have salaries cut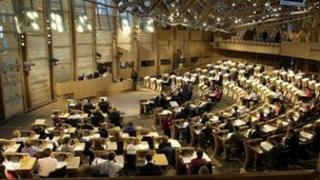 Holyrood has voted to dock the pay of MSPs who are jailed.
It followed the case of the Dunfermline MSP Bill Walker who resigned under pressure after being found guilty of 23 counts of domestic abuse.
The measure was only backed after protests from some MSPs that the plan was being rushed through.
Despite SNP MSP, Christine Grahame, urging further thought on the matter, the move was backed by 105 votes to seven, with four abstentions.
Earlier on Tuesday, Scottish Green Party leader Patrick Harvie urged MSPs to drop the motion and to consider other possible options in tandem with Westminster.
During a 15 minute debate in the Holyrood chamber, Ms Grahame called for "careful consideration" and said "on the hoof legislation" often ended up causing unexpected problems.
However, the vast majority of MSPs backed the plan to remove 90% of the salary of any MSP who was jailed.
Further talks will examine whether the rules on removing such MSPs altogether should be reformed and perhaps devolved to Holyrood.