Generation 2014: BBC Scotland introduces panel of young Scots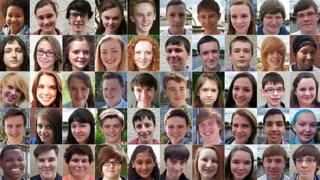 A panel of young Scots will be outlining their vision for Scotland as part of a new BBC project called Generation 2014.
The 50 boys and girls from throughout the country will be eligible to vote in next year's Scottish independence referendum.
For the first time the franchise will include 16 and 17-year-olds.
The Generation 2014 panel members will offer their opinions on TV, radio and online throughout the next 12 months.
The referendum takes place in a year's time on 18 September, 2014.
When voters go to the polls they will be asked a straight yes/no question: "Should Scotland be an independent country?"
The 26 boys and 24 girls on the panel will come together on Tuesday at BBC Scotland's headquarters in Glasgow to launch the venture.
The group, made up of participants from Coldstream to the Shetland Islands, was selected after a nationwide application and audition process.
David Stenhouse, executive producer of Generation 2014, said the teenagers would make a valuable contribution to BBC Scotland's referendum coverage.
He added: "We are delighted they are coming on board.
"They will become part of the BBC Scotland family, our window on the generation of young Scots who will help decide our future."
Meet some of the panel...
"I live with my mother and cat.
"I play accordion, fiddle and guitar.
"I am a member of the EYG (Edinburgh Youth Gaitherin') and we are releasing our album later this year.
"I won the Aly Bain fiddle trophy at the Edinburgh local Mod.
"I try my best to practice my Gaelic."
"I live in a beautiful little village beside the sea.
"I play football and attend the Western Isles Women's Football training.
"I am half way through completing my Silver Duke of Edinburgh Award.
"I sing and play the melodeon in 'Faram', a Scottish ceilidh band.
"I speak Gaelic to my mother, siblings and some relatives, and English to my father and friends."
"I am a very keen and pretty good fly fisherman.
"I am an Explorer Scout and disabled Scout Leader.
"I am very interested in politics and current affairs.
"I have appeared in two episodes of Rab C Nesbit.
"I have been in the debating club at school for five years."
"Dad is an electrical engineer on an oil rig off the coast of Angola.
"Politics interests me greatly and I enjoy nothing more than watching PMQs.
"I have been known to be accident prone - tripping down stairs, walking into walls, etc.
"This is a crucial time in Scottish history.
"Scotland has a distinct lack of tradesmen - as first minister I would create modern apprenticeships."