BBC Generation 2014: Ellie Kean's story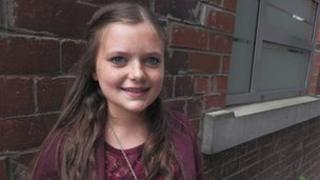 "Ten years into the future I always thought of Scotland being a community. A clean, healthy community with a significantly lower amount of antisocial behaviour/violence.
"I picture myself with the teaching degree I have always desired, teaching the next generation of Scots in a colourful and vibrant classroom.
"My family and I would be happy and proud to be Scottish as we walked through our new community.
"I would certainly like to be in this position in 10 years time.
"I personally believe this is possible as there are many new regimes in place that are redesigning and rebooting broken down communities as we speak.
"Police programmes and projects are constantly bringing down crime and violence rates and everything seems to be heading in the right direction for a brighter future. For example a huge project is about to begin in my hometown of Dundee.
"The new 'Waterfront' design is creating a positive outlook for Dundee.
"A new Olympia swimming centre has just opened and a V&A museum is also being added to the city.
"Also a few of the many empty unused areas are being transformed for the better and this suggests the prospect of tourism for my own town. It is hard to predict just what will happen; one decision can change everything in due course.
"That decision is obviously the 'Big Vote' known as the Scotland independence referendum which will decide if we will or will not stay part of the United Kingdom.
"For now no one can be sure of what is to come or whether their choice is correct, especially the young first time voters such as myself.
"Not to worry though as I am part of project Generation 2014 and their aim is to aid youngsters in their understanding of the referendum and the ideas behind it.
"I am very pleased to have a say in the voting as the voice of my generation usually goes unheard until adults think we are ready to participate. The truth is we do have opinions on such matters and are willing to share our views if we are given the chance.
"Next year we are given that exact opportunity. We get a say in one of the biggest decisions yet and I think that that is great for not just me but my generation as a whole."