BBC Generation 2014: Erin Fyfe McWilliam's story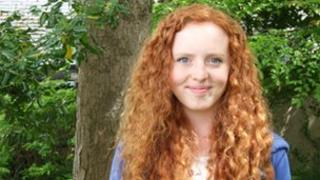 "Where I would like to be living and what I would like to be doing in ten years time isn't far from a fairytale story, but a girl's allowed to dream, right?
"I'd like to be on a beach, in Australia, taking in the sun as my boyfriend, who would just happen to be a model, is surfing the waves.
"But in reality, I would still be in cold, wet Scotland, fighting the streets from any crime. I guess more of a super hero story than a fairytale one.
"I see myself as a police officer - without having to suffer the wrath from males that I, as a woman, would be taking on a man's job in a man's environment.
"In 10 years' time I'd like to hopefully be living in a country with less crime rates, sexual discrimination and a lot less racial discrimination.
"I'd hope that businesses aren't as quick to make snap judgments about people as they are now, that there are more legislations giving people a fair and equal chance of recruitment, regardless of skin colour, sex or religion.
"I also have faith that the country is on it's way to it's goal of a "smoke free Scotland". I personally don't think that hiding cigarettes from view in supermarkets and other large branches of shops is a conventional method.
"I think the government should be taking more severe action to ensure that our country is healthy. Not only does smoking impact the health of Scotland, but obesity is a major problem, with Scotland having one of the highest obesity rates in the world.
"I think it's time for the government to think more about their strategies for fighting this growing number.
"I understand that we all have decisions to make about what we eat and the amount of exercise we do. But as children, it's hard to be healthy while at school.
"For example, supermarkets are selling a packet of cookies for 50p, yet when I want to buy a salad it is no cheaper than £3.
"The canteen also sells a vast amount of unhealthy meals, this needs to be changed to ensure that we can grow up making the decision to stay healthy and be aware of what we are eating.
"When it comes to voting next year, I am thrilled that I will have a say about what happens to the future of my country.
"It makes me proud that the government thinks people of my age are mature and able enough to make such important decisions like this.
"People are always talking about the fact that my generation is getting worse, so hopefully, this could change adults perspectives on us also."