Audience plea for TV debate programme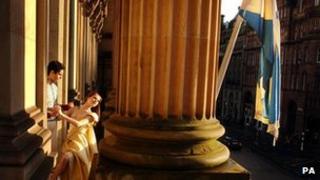 The BBC's Newsnight Scotland programme is appealing for members of the public to join an audience for its next debate on issues associated with the independence referendum.
The programme makers want to hear from people working in, or who have an interest in, Scotland's arts and entertainment industry.
From the Edinburgh festivals to town hall Christmas pantos, the arts make a huge contribution to the country's economy.
But artists also help shape Scottish identity and reflect it outwards to the wider world through literature, music, film and television.
Many in the creative sector are already actively engaged in the referendum campaign. Do you think a yes to independence would improve arts and entertainment in Scotland? Or will the outcome make no difference to the sector?
If you would like to discuss these and other issues with an invited panel of guests, please fill in the application below.
The special programme will be recorded on Monday, 30 September, at BBC Scotland's Glasgow headquarters. Participants will need to be available from 17:45 to 20:30.
Guidelines require the BBC to reflect a broad range of views.
To help us do this, we will ask all members of the audience whether they are associated with a political party, if they already have a view on the referendum and where in the British Isles they are from.
Voters in Scotland will go to the polls on Thursday, 18 September, next year when they will be asked the straight yes/no question: "Should Scotland be an independent country?"