Scottish independence: Put your questions to defence expert Dr Phillips O'Brien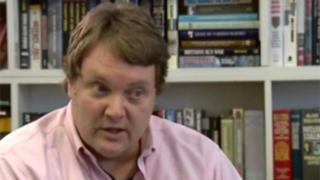 Defence expert Phillips O'Brien will be in the hot seat to answer your independence referendum questions.
The director of the Scottish Centre for War Studies is the latest guest taking part in a series of webcasts looking at issues surrounding Scotland's future.
Dr O'Brien has spoken about defence in the event of a "yes" to independence with a particular focus on the future of Trident at Faslane.
He told the BBC last year that Trident could be a key bargaining tool if a new independent Scottish government entered into talks with the UK government.
If you have something to ask Dr O'Brien on a defence-related topic, email newsonlinescotland@bbc.co.uk
Please put "Referendum questions" in the message field of your email.
Scotland's electorate will go to the polls on 18 September 2014.
Voters in the referendum will be asked the single yes/no question: "Should Scotland be an independent country?"
The interview with Dr O'Brien will be published on BBC Scotland's politics website.