Scottish independence: Pension body's letter 'gave yes vote assurance'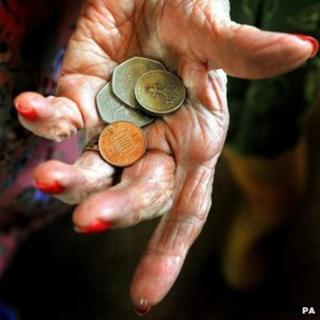 The UK state pension would continue to be paid to people living in an independent Scotland, the pension agency has said.
The comments came in a letter from the Department for Work and Pensions, which was quoted by Scottish First Minister Alex Salmond.
However, the DWP later said it was looking into whether its content was misleading.
The letter was sent to one of Mr Salmond's constituents.
Written in the name of a pension service customer adviser and dated 4 January, 2013, it stated: "If Scotland does become independent, this will have no effect on your state pension - you will continue to receive it just as you do at present."
Mr Salmond has accused opposition parties of scaremongering over the issue of state pension delivery, ahead of the independence referendum on 18 September 2014.
The first minister, who quoted from the letter during question time at Holyrood, said: "Given that the pensions service, the agency of the UK government, is sending to my constituents in Aberdeenshire such definitive information, it ill-behoves Labour and Tory scaremongerers who come to this chamber with a scaremongering agenda."
In a subsequent statement, a DWP spokesman said: "We will look into this specific letter in case any misleading information was inadvertently given out.
"However, what is absolutely clear is that it will be the responsibility of an independent Scottish government, not the UK government, to make arrangement for pensions for citizens of an independent Scotland.
"There can be no guarantee that it will be at the same level as it is now."
Earlier this week, the Scottish government published its blueprint for state pensions in an independent Scotland, which stated they would continue to be paid "on time and in full", in the event of a "yes" vote.
But the UK government said SNP ministers were failing to answer difficult questions on the issue and argued that the proposals were uncosted.