GP and dentist complaint figures revised after 'error'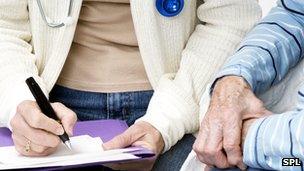 The health service in Scotland has admitted that complaints about GPs and dentists rose by more than a third last year.
Initially the statistics division of the NHS said complaints had dropped, but it has now said a "formula error" was discovered.
It means complaints for all parts of the NHS rose last year.
Complaints about hospitals and clinics were at their highest level for 10 years.
Statistics published in September initially indicated that grievances against GPs and dentists had fallen by 15% between 2011/12 and 2012/13.
But a revision to these original figures showed that the number of complaints in fact rose by 36%.
NHS Scotland Information Services Division revised the number of complaints against family doctors and dentists from 2,992 to 4,804 for 2012/13, compared with 3,538 in 2011/12.
Conservative health spokesman Jackson Carlaw said: "This isn't a small statistical error. It's a major oversight which created the impression that doctor surgeries and dentists were performing considerably better than last year.
"In fact, the opposite is true and the Scottish government now needs to explain why there has been such a huge increase in complaints."
Related Internet Links
The BBC is not responsible for the content of external sites.