Alex Salmond urges yes to independence and no to 'project fear'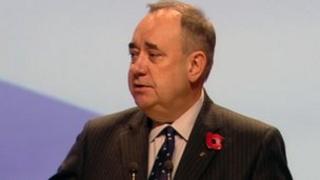 SNP leader Alex Salmond opened his party's conference by saying he believed people would choose the "hope of yes" rather than the "fears of no".
The first minister's speech comes with the Scottish independence referendum 11 months away.
He told delegates in Perth that Thursday 18 September 2014 was Scotland's "date with destiny".
On that day, voters will be asked the straight "yes/no" question: "Should Scotland be an independent country".
Mr Salmond said that the people of Scotland had their biggest opportunity to choose a better future.
He told delegates on the first day of the four-day conference: "I believe that people will choose the hope of a yes vote, rather than the fear offered by no.
"And no-one now denies the reality that Scotland has got what it takes to be a successful, independent country.
"We know that 'project fear' - as people in the no campaign christened it - will say anything to talk down Scotland's abilities.
"They peddle nonsense such as mobile phone roaming charges after independence, the threat to annex Faslane, no whisky in embassies - nonsense which even they are forced to retract."
The party leader went on to say that people in the no camp could not deny the economic viability and potential of "people-talented, resource-rich Scotland".
He added that per head of population, Scotland had more top universities than any other country; was the EU's largest oil producer and had a thriving creative industries sector.
Mr Salmond said: "When even the most bitter opponents of Scottish independence agree that Scotland has got what it takes, then it's clear that the only thing people have to fear is 'project fear' itself."
At the start of his conference speech, Mr Salmond addressed the on-going dispute at the Grangemouth oil refinery and petrochemical plant.
He confirmed that he would be holding further talks with both the facility's operator Ineos and the Unite union.
The facility remains shut down despite Unite calling off a planned strike.