Scottish independence: Minister raises Trident removal cost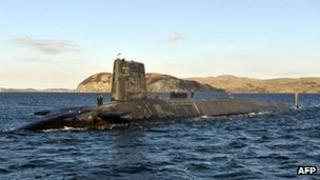 It would be "murderously expensive" to remove Britain's nuclear deterrent from Scotland in the event of independence, a UK defence minister has said.
Andrew Murrison's comments came as he gave evidence to Westminster's Scottish affairs committee.
He said if there was a "Yes" vote in next year's referendum, negotiations about the future of Trident submarines would include the issue of cost.
The SNP has committed to removing nuclear weapons from the Clyde.
Dr Murrison told MPs that Scotland would have to contribute to the costs of removing Britain's nuclear deterrent, currently based at the Faslane naval base, under independence.
"The difficulty is, you then have to re-provision this particular capability elsewhere, so the removal of it from the Clyde is going to be murderously expensive and that would have to be a factor in the negotiations," he said.
The Scottish government has said an SNP administration in an independent Scotland would negotiate with the Ministry of Defence to help with the removal of Trident, but it would not bear the costs.
Meanwhile, a report from the Scottish Global Forum think tank said Scotland had the capability and funding to defend itself while also aiding international security in the same way that other similar countries like Denmark and Norway do at present.
Co-author and retired Army officer Lt-Col Andrew Parrot, added: "That will draw upon the resources that we will take away from any independence settlement with the UK government as per Scotland's population share that we have already paid for."
Ahead of the referendum, on 18 September 2014, the Scottish government will later this month publish its detailed case for independence in the form of a white paper.
SNP ministers have already set out their aspirations for a 15,000-strong Scottish Defence Force, under a £2.5bn defence and security setup.