Scottish independence: White Paper 'must be clear on defence'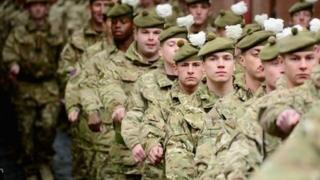 A committee of MPs has said the upcoming White Paper on Scottish independence should be "absolutely clear" on how an independent Scotland would defend itself.
The Scottish government will publish the White Paper on Tuesday.
A Commons Scottish Affairs Committee report said the document should set out specifics on costs, personnel numbers, equipment types, bases and alliances.
The SNP said an independent Scotland would have first-class armed forces.
The Scottish government has previously said an independent Scotland would have a defence and security budget of £2.5bn, with an armed forces of 15,000 full time and 5,000 reserve personnel.
Nuclear weapons
It said Scotland would be entitled to a share of current UK defence assets, and would take part in peacekeeping and disaster relief.
It is also committed to joining Nato, and has pledged to move Trident nuclear weapons from the Faslane naval base on the Clyde.
The Scottish Affairs Committee's chairman, Ian Davidson, set out a list of questions on defence which he said should be answered in the White Paper, which will set out the Scottish government's plans for independence.
These questions included:
Will there be a defence force which is army heavy? An army which is infantry heavy? Will historic regiments be re-designated as platoons, reserves or non-infantry units?
How big will the Scottish Navy and Air Force actually be? Where will they be based and how will they be equipped?
Is Faslane to be kept with its existing workforce?
The committee has held a number of inquiries into questions raised by the referendum debate.
It is pro-Union in membership, with its sole SNP member, Dr Eilidh Whiteford, refusing to take part.
Mr Davidson said: "Much of what the Scottish government have suggested up to now suffers from a conspiracy of optimism - the assumption that everything will go according to plan, that every other government and international body will fall in with the Scottish government's proposals.
"But what if this doesn't happen? What are their alternatives? The Scottish government must spell out its fallback positions in the event that everything does not go so smoothly."
'Illegal invasions'
The people of Scotland will be asked the straight yes/no question "Should Scotland be an independent country?" when they vote in the referendum on 18 September next year.
SNP defence spokesman Angus Robertson said Scotland had been "hugely short-changed" in its cash contribution to UK defence.
He added: "Since 2000, nearly 10,000 MoD posts have been lost in Scotland. An independent Scotland will have first-class conventional forces, which will play a full role in defending the country and co-operating with Nato partners.
"However, we will not waste billions of pounds on Trident nuclear weapons, or take part in illegal invasions like Iraq. When it comes to Scotland's defence capabilities, what we have we don't need, and what we need we don't have.
"Not a single major Royal Navy surface vessel is based in Scotland - the largest protection vessels stationed in Scottish waters are those of the fisheries protection vessels run by the Scottish government.
"With independence we can prioritise having the air and naval capacity needed to monitor and secure our offshore territory and resources."