Scottish independence: Call for 'truce' during Glasgow 2014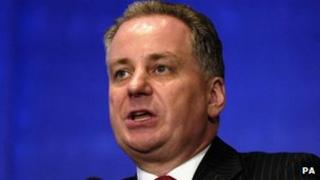 A former Scottish first minister has called on both sides of the independence debate to declare a "truce" during the Commonwealth Games.
Lord McConnell, known as Jack McConnell when he was an elected representative, said neither side should use Glasgow 2014 for political gain.
But First Minister Alex Salmond said it was "nonsensical" to suggest politics would overshadow the event.
A referendum on Scottish independence will be held on 18 September.
Voters will be asked the yes/no question: "Should Scotland be an independent country?"
Lord McConnell will explain his thinking on the issue during a House of Lords debate later.
The former Labour MSP and now Labour peer, told BBC Radio Scotland's Good Morning Scotland programme: "There is a genuine concern that there will be a temptation on both sides of this debate in the period of the Commonwealth Games, given the numbers around and the focus on Scotland, to engage in a continuing debate on the referendum campaign and therefore I think it would be wise, six months before the games, for both sides to say that they will agree a truce for that two week period.
He continued his message: "Campaign relentlessly between now and then and of course afterwards, but for that two week period let's concentrate on Glasgow and Scotland and winning some gold medals for Scotland.
"I don't think it is a lot to ask both sides of politicians to lay off for that fortnight and to ensure that nobody involved in the Games be distracted or concerned by what they say and do and achieve might be either exploited or used by either side in the aftermath."
Mr Salmond told BBC Scotland's Glenn Campbell that the Games had been prepared on a cross-party basis and that there was no reason to doubt that continued approach.
In addition, Scotland's sports minister Shona Robison said she did not share Lord McConnell's concern that politicians would hijack the Games.
Ms Robison said: "Politicians of all persuasions across the debate will enjoy the Games, will be involved as appropriate but I don't think there is any willingness or desire to hijack the Games.
"What we all want is for it all to be a huge success for Scotland, we have invested a huge amount of time and resources in what will be Scotland's biggest sporting event we have ever had. Everyone wants it to be a success and that will be a sporting success."
She added: "The backdrop to the Games is that it has been achieved on a cross-party basis. That puts us in a very strong position to continue that cross party working right the way through the referendum. We have worked through a general election, through a Scottish election, through a local election and despite rigorous debate through those elections we still manage to sustain cross party working around the Games."
Meanwhile, the Law Society of Scotland has said both sides of the independence debate need to do more in 2014 to engage and inform voters.
It commissioned a poll from Ipsos Mori which indicated that only 14% of voters said they were "very well informed" about the issues being debated in the campaign so far.
Bruce Beveridge, president of the Law Society of Scotland, said: "This is an exciting and quite possibly pivotal time for Scotland. The importance of the question facing us in September, described as the biggest for our nation in 300 years, demands a thorough and worthy debate.
"This poll shows that, with only nine months to go, many Scots still do not feel properly informed.
"Over half say the debate is not covering the issues they care about. And as many as two thirds are finding it difficult to decide whether or not the information they are getting is true."
A Scottish government spokesman said it was important that both sides of the debate did as much as they could to "engage and inform voters in the run-up to the referendum".
He added that the government's White Paper set out the "transformational opportunities of independence for Scotland".
A Better Together spokesman said: "We are being asked to take one of the biggest decisions in Scottish history.
"The campaigns are working to get information out to people across the country about the impact of going it alone on our jobs, pensions and public services."