Reform Scotland proposes major pension overhaul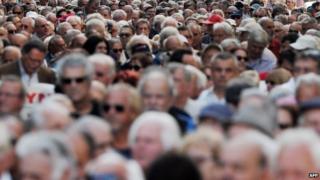 Proposals to end the state pension and existing public sector schemes have been put forward as part of a radical overhaul of the system.
Reform Scotland said the current system had been mismanaged, leaving too many people without enough for retirement.
The think tank proposed that workers should pay a mandatory percentage of their salaries into a new "defined contribution scheme".
It said the move could be funded by reforms to the tax system.
Reform Scotland's plan came as the issue of pensions has become a key issue ahead of the Scottish independence vote, on 18 September.
The paper did not examine Scotland's constitutional future, but the think tank said the pension system needed to be looked at, whatever the outcome of the referendum.
Scottish government said, in the event of a "Yes" vote, basic state pensions would be paid "on time and in full", with the same level of protection that currently exists.
SNP ministers said they would then embark on an exercise to consider when the state pension age should kick in.
The UK government has announced an incremental rise in the state pension age from 65 to 68 over the next 20 years, to cope with the country's ageing population.
Reform Scotland chairman Ben Thomson said: "The key problem with our pension structure is that those faithfully paying National Insurance and those paying into a public sector occupational pension scheme have no ownership over their pension assets.
"They are not paying into a personal pot for themselves - they are paying for today's pensioners and are dependent on an increasingly stretched next generation to pay for them.
"This is hugely insecure and unsustainable. It's time to grasp the nettle on pensions and end the conspiracy of silence that exists in all political parties on this issue."
Mr Thomson said the state pension already accounts for 14% of Scottish public sector spending, while Scottish public sector pensions take up 8% of the Scottish government's budget, with a 25% increase in the number of pensioners expected in the next 20 years.
What is Reform Scotland proposing?
A new scheme, the Universal Contributory Pension (UCP), which is funded, aims to give people greater control over, their retirement income.
Instead of National Insurance, workers would pay a mandatory percentage of salary into a defined contribution pension scheme of their choice, which could start paying out at the age of 60.
The state would provide a means-tested, minimum guaranteed income in old age, as it currently does through the Pension Credit.
As a result, the state pension would be phased out over 45 years to take account of individuals who had contributed National Insurance in the past.
All public sector schemes would close for new members and stop accruing for existing ones.
The money that individuals paid into the new scheme, in addition to government tax-relief, would become their pension pot.
Why does Reform Scotland say its plan is better than the current system?
The think tank said everyone would know how much their pot was worth and how it was managed.
The pot would be fully transferable so that an individual could remain in the same scheme if they changed jobs and is "likely that they would be considerably better off in old age".
The scheme also aims to relieve the pension burden on future generations, as each person would provide for his or her own retirement.
Pension pots could be transferred to family members after death - Reform Scotland has suggested that following the death of an individual, if they have not taken out an annuity, any money remaining in their pension pot should be put into the pension pots of those who inherit it, free of inheritance tax.
How does Reform Scotland say it would work?
The think tank said the new scheme would be administered along the same lines as the current auto-enrolment scheme, with the crucial exception that employees would not be allowed to opt out.
Reform Scotland said the mandatory salary contribution would start at 8%, increasing to at least 10% over time, with employees allowed to top up their pensions to bring the total contribution to £20,000 a year.
Contributions would get a flat rate of tax relief from the government irrespective of the amount and rate of tax paid by the beneficiary.
For example, someone earning £25,000 a year and paying £4,000 towards their pension would get £800 tax relief with the 20% basic rate, while someone earning £50,000 and also paying £4,000 towards their pension would get £1,600 in tax relief, under the 40% higher rate.
The scheme should be free from capital gains tax and tax on dividends and any income paid out of the pension scheme would be subject to income tax at the prevailing rate.
How does Reform Scotland say it would be paid for?
The think tank has suggested that, in place of National Insurance, 7p would be added on to each rate of income tax initially, with additional tax reductions in the longer term, as the burden of the current state pension fell away.
Employers' National Insurance would be retained and renamed "payroll tax", while the personal tax allowance would go up to £12,000.
This, said Reform Scotland, would ensure on the lowest incomes were better off and not disadvantaged by the introduction of the mandatory contribution.