Scottish independence: 'No referendum on currency', says Salmond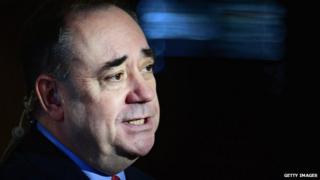 People in England, Wales and Northern Ireland should not be given a formal say on whether an independent Scotland joins a currency union with the UK, according to Alex Salmond.
The first minister said a referendum in the rest of the UK would "not be required" following a "Yes" vote.
The issue should be left to negotiations between the two governments, he added.
The UK government has already ruled out a formal currency union.
The pro-Union Better Together campaign said Mr Salmond's position "simply isn't credible".
Earlier this month, during a speech in Edinburgh, UK chancellor George Osborne rejected formally sharing the pound with an independent Scotland, a position that was backed by Labour and the Liberal Democrats.
Speaking at a lunch with journalists, Mr Salmond insisted he would push ahead with plans for an independent Scotland to form a sterling zone with the rest of the UK.
The Scottish government has argued that keeping the pound and the services of the Bank of England as part of a currency union under independence makes sense for both Scotland and the rest of the UK.
On 18 September voters in Scotland will go to the polls to answer the straight yes/no question: "Should Scotland be an independent country?"
Mr Salmond said: "A referendum would not be required, it should be a negotiating position between the rest of the UK and the Scottish government after a Yes vote.
"The task we have is to explain the benefits of the sterling zone, not just to the people of Scotland, where polls indicate very, very strong support, but also to the people of the rest of the United Kingdom.
"Our position is share and share alike."
He added: "We think it's right and proper that we have a sterling union that is in the best interests of Scotland and the rest of the United Kingdom."
He said the alternative would be for Scotland to refuse a fair share of UK debt, adding that it was "unlikely that any chancellor, George Osborne or not" would continue to reject a currency union.
However, a Better Together spokesman said Mr Salmond was under pressure to spell out a "Plan B" on currency, and had "a bad habit of telling people in the rest of the UK what's in their best interests without going to the bother of asking them."
He added: "Recent polls have shown overwhelming opposition to a currency union if Scotland left the UK.
"There is a clear pattern emerging here. On one side you have the three UK parties saying a currency union won't happen and people in the rest of the UK supporting that. On the other side you have Alex Salmond saying they are all wrong and only he is right.
"It simply isn't credible."