Scottish independence: On the road with the No campaign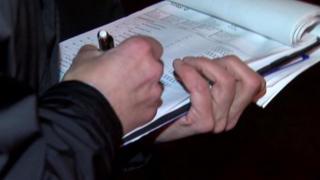 With less than 200 days to go until the Scottish independence referendum, both campaigns - pro-independence Yes Scotland and pro-Union Better Together - are ramping up for the final push.
Voters go to the polls on 18 September.
The BBC's referendum correspondent Laura Bicker went behind the scenes - and out on the road - with both campaigns, to see how the different messages are going down with voters.
Here, Laura pounds the streets with Better Together campaigners in Rutherglen. On Monday, she wrote about her time with Yes Scotland.
They know who you are. They know where you live. And you're about to get mail.
The Better Together campaign is all about research. And lots of it.
They use Patriot, sophisticated software bought in from the US, where it was used in President Obama's election. It helps to target those who don't know which way to vote in the referendum.
Better Together director Blair McDougall says research is at the heart of the campaign.
"Over the last two years, we've done the most intensive research that Scotland has ever seen," he said. "We've really delved into who the voters are, what they think, what their backgrounds are, what type of families they are, what type of work they do.
"We've used that information to put into our voter ID system, our Patriot system, in order to find out exactly where those people are, so that when we send out volunteers, direct mail and communications, we're getting it to the people who are going to be decisive in this referendum."
In the campaign office above Glasgow's Savoy shopping centre, there is a steady thud from a machine which is rhythmically stamping out letters. There are 800,000 envelopes arranged alphabetically in piles with the help of half a dozen volunteers. Each one contains a personal letter to voters urging them to vote "No".
This work is backed up by a ground campaign, but we struggled to find a group willing to go on camera. Eventually, we hear from some politicians and a couple of campaigners who plan to canvass in Rutherglen.
Their approach is brisk, business-like and focused. This is not a sales pitch. The aim is to get more information and not waste time with those who already know they're voting "Yes" or "No".
"Are you prepared to tell me how you are going to vote?" asks Liberal Democrat campaigner David Baillie on one doorstep.
"Well, it's supposed to be a secret ballot," is the reply.
After knocking on their allotted doors, the campaigners head back to meet former Liberal Democrat MSP Robert Brown, who is in charge of tonight's operation. He notes every response before assigning their next targets.
"That household is voting 'No'," David reports. "I congratulated them."
I've heard from many people across Scotland who say the Better Together campaign has so far felt very negative; it's even been dubbed Project Fear.
Labour councillor Walter Brogan rebuts this, however.
"We are certainly not negative so I don't know who you are talking to," he says.
Campaigner David expands, saying the onus is on the pro-independence campaign.
"I think it is for the 'Yes' campaign to convince people," he says. "We are essentially advocating the status quo, which might appear to be pretty negative, although there will be developments in the devolutionary set-up afterwards, assuming there is a 'No' vote.
"So, in a way it is really up to the 'Yes' campaign to be justifying its position rather than ourselves."
In Rutherglen, unlike with the Yes Scotland campaign, there are no pictures taken for social media sites, no impromptu conversations.
And yet Walter tells me: "We want to take across the positive message about staying in the UK and that is why we are out here on a rainy night, campaigning for something we love."