Scottish independence: Roseanna Cunningham sorry for upsetting general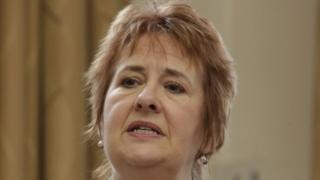 A Scottish minister has apologised to a retired Army general for causing any "inadvertent stress" by publicising his contact details on Twitter.
Community Safety Minister Roseanna Cunningham said she would write to Lt Gen Sir Norman Arthur after he said he had received abusive emails.
Sir Norman had written letters in an attempt to raise funds for the pro-Union Better Together campaign.
Ms Cunningham tweeted an image of one letter containing his contact details.
Sir Norman, formerly Scotland's most senior soldier, complained to the Scottish government after being targeted by abusive emails from independence supporters.
A spokesman for the community safety minister, said: "This was a round-robin letter, which had already been widely circulated by others on Twitter.
"However, Ms Cunningham will write to Lt General Arthur to apologise for any inadvertent distress caused."