Scottish independence: Pound-share risk claim 'overstated' says fiscal group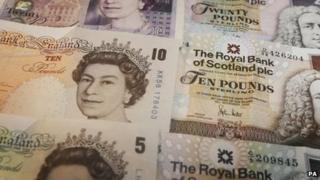 The Treasury has "overstated" the risks of an independent Scotland sharing the pound with the rest of the UK, Scottish government advisers have said.
First Minister Alex Salmond's fiscal commission working group said a formal currency union in the event of a "yes" vote was in everyone's best interests.
The group also said there were other "viable" options.
UK Chancellor George Osborne has said voting for independence would mean walking away from the pound.
His warning, ahead of the 18 September independence referendum, came after the senior civil servant at the Treasury, Sir Nicholas Macpherson, said currency unions were "fraught with difficulty".
The chancellor has also said the UK's successful union with its shared monetary policy and risk would be lost in an independent Scotland, which would be more exposed to risks from the "volatile" energy and finance industries.
Mr Osborne, along with Liberal Democrat Chief Secretary to the Treasury Danny Alexander and Labour shadow chancellor Ed Balls, have said they could not support a formal currency union.
They have also called on the Scottish government to come up with a currency Plan B.
Scottish ministers have said their option made sense for both Scotland and the rest of the UK, but political opponents have called for a currency "Plan B".
The fiscal commission working group, chaired by Crawford Beveridge issued its comments after meeting in Edinburgh for the sixth time since its formation in March 2012.
In a statement, the group said: "While we have noted the statements from the Chancellor and other political parties, our remit remains concentrated on economic merits.
"In this regard, we believe that the analysis to date by the UK government overstates the risks of a formal monetary union, for example, their analysis of Scottish financial sector risk is overplayed.
"At the same time, it fails to fully capture the benefits.
"In response to these developments, the working group has agreed that we will provide further analysis to demonstrate that, while other options are viable for Scotland, there are clear advantages for the rest of the UK from the proposed sterling area."
In response to the fiscal commission statement, the pro-Union Better Together campaign said that a "currency union is off the table".
A spokesman added: "It wouldn't be in the best interests of Scotland or the rest of the UK. What people in Scotland need to hear from Alex Salmond is his Plan B on what would replace the pound. Would we rush to adopt the Euro or set up an unproven separate currency?
"Scots cannot be expected to go to the polls in September blind on the most fundamental issue affecting our economy."