Scottish independence: Citigroup says formal currency union 'unlikely'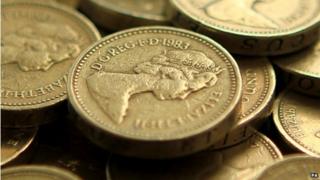 A deal on sharing control of the pound between an independent Scotland and the rest of the UK is "unlikely", analysts at the global bank Citigroup have said.
They also said it was "astonishing" the Scottish government did not have a currency union alternative.
The three main Westminster parties have ruled out a formal monetary union in the event of a referendum "Yes" vote.
The Scottish government said the pound was "as much Scotland's as it is the rest of the UK's".
Citi's report on the implications of a vote for independence came as Chief Secretary to the Treasury Danny Alexander said the cross-party decision to rule out a monetary union was "final".
Mr Alexander, along with UK Chancellor George Osborne and Labour shadow chancellor Ed Balls, have said they could not support a formal currency union between Scotland and the rest of the UK in the event of a "Yes" vote in the 18 September referendum.
Scottish Finance Secretary John Swinney said UK ministers were essentially arguing to take responsibility for all UK debt.
The Citigroup report said there was "nothing inherently implausible about a country with Scotland's population and economy being independent", but raised concerns that:
Scotland's fiscal deficit was "now significantly above UK levels" because of a recent fall in oil revenues
Scotland's "large" banking system, with bank assets of more than 1,000% of Scotland's annual GDP, might be too big for the country to bail out
There was uncertainty over the currency and monetary policy for an independent Scotland.
It said: "We regard a sterling monetary union as unlikely, but we are genuinely unsure what currency amd monetary policy would be adopted by an independent Scotland.
"In our view, it is astonishing that the Scottish government, in seeking independence, has reached this stage: seeking a currency union without agreement with the rest of the UK and without a clear alternative plan.
"The painful euro area strains make it clear that the set-up for the currency and monetary policy is crucial: it cannot be ignored or assumed to 'be alright on the night'."
The report also argued that a deal on sharing control of the pound between Edinburgh and London would "most likely require severe constraints on the fiscal policy of an independent Scotland".
Government 'threat'
And Citi analysts estimated the borrowing rate for an independent Scottish government would be around one-and-a-quarter percentage points higher than the UK level, although it could be more initially.
The researchers also said they did not regard the Scottish government's "threat" to walk away from Scotland's share of the UK national debt as being "wholly a bluff".
They said that while such a move "would probably cause a new Scottish government to acquire a default premium on future borrowing" it would also "cut Scotland's fiscal deficit by about 3% of GDP", bringing the deficit "below the UK level and give Scotland a low or zero initial debt ratio".
Responding to the bank's report, the Scottish government said a currency union was in the "overwhelming economic interest" of the UK.
A spokesman said: "As leading international credit rating agency Standard & Poor's last week concluded, Scotland's wealth levels 'are comparable' to those of AAA-listed nations, and that as an independent country - even without North Sea oil - Scotland would qualify for S&P's 'highest economic assessment'.
"The Fiscal Commission Working Group, which comprises economic experts including two Nobel Laureates, has already considered a range of currency options in its detailed report published a year ago, and concluded that it is in the interests of both Scotland and the UK to continue to retain Sterling in a formal monetary union, and that is the policy the Scottish government proposes.
"The pound is as much Scotland's as it is the rest of the UK's, and the Scottish government has put forward sensible proposals for a formal monetary union that would ensure both governments had full flexibility over their fiscal policies such as taxation, within an overall sustainable framework.
"A currency union is in the UK's overwhelming economic interests, including the vast contribution of Scottish oil and gas to the UK's exports."
Pensions industry
Meanwhile, Mr Alexander used a speech to representatives of the pensions industry to again call on the Scottish government to come up with a currency Plan B, insisting his position was not a campaign tactic.
He told the National Association of Pension Funds conference: "I've seen some people suggest we are not serious about refusing a currency union.
"Let's call this the John McEnroe defence. Except in this instance it's not just one person they're shouting at, but three.
"And our decision - taken in the best interests of Scotland and the rest of the UK - is final.
"No ifs, no buts. No matter how much of a racket they make, it isn't going to change."
This week, the Scottish government's fiscal commission working group, chaired by economist Crawford Beveridge, reiterated its view that a formal currency union was the best option for an independent Scotland, saying it had "clear advantages for the rest of the UK".
Mr Alexander said his position had been backed by advice from the Treasury's most senior civil servant, Sir Nicholas Macpherson, who said a currency union would be "fraught with difficulty".