MSPs call for financial safeguards for Scotland's colleges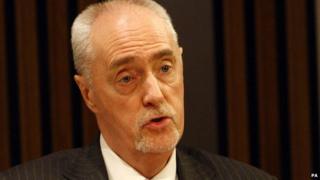 Safeguards are needed to protect the financial interests of Scotland's colleges, MSPs have said.
A Holyrood committee called on the Scottish government to clarify how new arms lengths foundations (ALFs) that look after cash surpluses will operate.
Colleges must be able to access all financial reserves transferred into these foundations, they said.
The Scottish government said it was confident ALFs would safeguard college finances.
The committee's inquiry took place in the midst of major reforms in the college sector.
These included colleges merging or forming federations, with the total number of colleges likely to reduce from 37 to 21 by the time the process has concluded.
The Public Audit Committee, which examines public expenditure in Scotland and accounts laid before the Scottish Parliament, receives an annual report on college finances from the Auditor General for Scotland.
Cash reserves
Committee convener Hugh Henry MSP said: "In Scotland, colleges will be able to create ALFs so they can transfer any current accumulated cash reserves and any future annual surpluses to the foundation, for use in future years, without it counting against Scottish government budget limits.
"ALFs will be required by statute and by Scottish Charity Regulator, to operate in their own best interests, but our committee is concerned that this independence may be to the detriment of individual colleges.
"The public audit committee is therefore calling on the Scottish government for clarification on how it intends to manage the risk that the priorities of ALFs could diverge from the priorities of relevant colleges."
Mr Henry added: "We are also calling on the government and the Scottish Funding Council (SFC) for further information on what safeguards will be put in place to ensure that the trustees of ALFs cannot interpret their articles of associations in a way that is inconsistent with the interests of colleges.
"Furthermore, the committee wants to know they will ensure that colleges have access to all of the reserves they have transferred to the ALFs."
Elsewhere in its report, the committee said it "welcomed the Auditor General for Scotland's finding that the overall financial standing of the college sector in 2011-12 continued to be generally sound, especially given the levels of change taking place within the sector".
The Scottish government has two months in which to respond to the committee's report.
A government spokeswoman said: "We welcome the committee's helpful report, in particular its acknowledgment that our reforms are progressing well and college finances remain strong.
"The Scottish Funding Council is confident that Arm's Length Foundations will safeguard the financial reserves of colleges and the SFC have also made clear that funds lodged with ALFs will be subject to close scrutiny."