Scottish independence: Labour's Jim Murphy warns of 'disruptive change'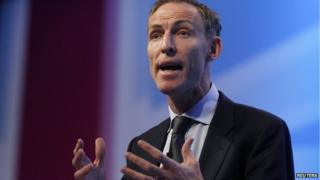 Labour's former Scottish Secretary Jim Murphy has said independence would mean "disruptive change" for Scotland.
In a speech in Glasgow, he said Scotland's voters could choose "further devolved change as part of the UK" by voting "No".
Mr Murphy added he was "fiercely committed" to the devolution of welfare powers.
The Scottish government said independence would enable everyone to benefit from Scotland's wealth.
Voters in Scotland go to the polls on 18 September when they will be asked the "Yes/No" question: "Should Scotland be an independent country?"
The speech by Mr Murphy, who is currently Labour's shadow international development secretary at Westminster, took place as the referendum campaign was about to enter its final six months.
The East Renfrewshire MP said: "Over the next six months and one day it will be increasingly clear that the referendum choice is between the disruptive risk of change with the nationalists, versus further devolved change as part of the UK.
"No-one disputes that independence is disruptive change.
"There have been three disruptive shocks in my lifetime. One of oil, one of industry and one of financial shock.
"Today we face the disruption of independence which, while different from the previous events, also has the three elements of oil, of industry and financial shocks."
'Positive vision'
Labour will set out its proposals for further devolution tomorrow and Mr Murphy suggested these could include further devolution of tax and welfare powers.
During the campaign so far, pro-independence campaigners have taken their arguments to less affluent, traditionally Labour-voting neighbourhoods in cities including Glasgow.
"I've become increasingly scunnered as I listen to the SNP talk about the communities I grew up in and telling them that everybody will be better off when in truth the opposite is the case," Mr Murphy said.
"It is crucially important that Scotland hears that we have a positive vision of Scotland as part of the UK and that means the Scottish Parliament having more powers.
"But it also means having more powers for a reason and for me that would be to ensure there's less poverty and having that within the UK."
He added: "I'm fiercely committed to devolving aspects of the welfare state."
'More affordable'
The Scottish government's minister for youth employment, Angela Constance, dismissed Mr Murphy's claims that Scots would be worse off with independence.
"Scotland is one of the wealthiest nations in the world and with independence we can make sure everyone benefits from our wealth, not just the Treasury in Westminster," she said.
"With a yes vote we can keep the pension age at a level that works for people in Scotland because pensions and welfare are more affordable in Scotland than they are for the UK.
"We can ensure all public sector workers in Scotland get a fair deal with a living wage and we can ensure the minimum wage always keeps pace with the cost of living.
"And we can provide the transformational childcare that would help parents into work whilst ensuring we all benefit from Scotland's immense natural resources."