Scottish independence: Campaigners mark six months to vote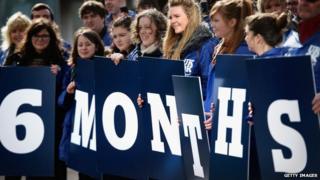 The Scottish Parliament would have more powers to vary income tax and control of housing benefit under devolution proposals by Labour.
MSPs would be able to vary tax by up to 15p, giving them the option of restoring the 50p rate for top earners.
Labour's proposals came as campaigners for and against independence mark six months until Scotland's referendum.
The Scottish government said only full independence would give Scotland the economic powers it needed.
Deputy First Minister Nicola Sturgeon said she and her colleagues would continue to "make the positive case" for independence in the coming months.
Voters in Scotland go to the polls in exactly six months' time on 18 September, when they will be asked the "Yes/No" question: "Should Scotland be an independent country?"
A Labour commission has been examining options for further devolution of powers to the Scottish Parliament as an alternative to independence.
At a launch in Edinburgh, party leader Johann Lamont revealed its details.
The commission report said Holyrood should be able to raise about 40% of its own revenues, £2bn more than the most recent Scotland Act 2012.
When it comes into being in 2016, it will give the Scottish Parliament control over more tax raising powers in exchange for a 10p in the pound cut in the block grant, but Labour believes this should be extended to 15p - giving Scotland control of three quarters of the basic rate of income tax.
The commission also said the parliament should have the powers to increase the higher rates of income tax, giving it the ability to tax richer citizens more.
However, there would be safeguards to prevent Scotland launching a tax competition with Westminster by cutting top rates. Top rates may only be cut if all rates are cut, Ms Lamont said.
The Scottish Parliament already has a limited power to vary income tax, but it has never been used.
It is understood Labour would hope to use the tax varying powers to increase the upper rate of tax to 50p in the pound if it decided such a move was necessary.
But there would be no power to cut the upper rate, currently set at 45p, on its own.
The party is also proposing that attendance allowance, paid to over 65s with disabilities for help with personal care, be devolved to Holyrood, along with the work programme, under which public and private sector organisations are paid to help unemployed people into work.
Pensions and most benefits would continue to be shared across the UK but Holyrood would gain control of housing benefit.
This would allow MSPs to scrap the under-occupancy penalty - branded the "bedroom tax" by critics - which reduces housing benefit payments to council tenants deemed to have a spare bedroom.
But Labour has not proposed to devolve corporation tax, national insurance, VAT, capital gains tax or air passenger duty.
Marking the six month milestone, Ms Sturgeon said a "No" vote would mean handing power back to Westminster when polling stations closed.
She said: "The referendum is a choice between taking Scotland's future into Scotland's hands or leaving our future in the hands of an out-of-touch Westminster establishment.
"The 'No' campaign call themselves Project Fear but we have seen a move to Project Threat in recent days with increasingly over-the-top comments."
Ms Sturgeon added: "We will continue to make the positive case, setting out how we can make the great wealth of Scotland work better and more fairly for everyone who lives here."
The Scottish Conservatives have set up their own commission, headed by Lord Strathclyde, the former leader of the House of Lords, to look at further powers for the Scottish Parliament.
Prime Minister David Cameron, in his speech to the Scottish Conservative conference at the weekend, backed possible future devolution, though the commission has yet to announce firm proposals.
The Liberal Democrats have published a report arguing for "fiscal federalism", where Scotland would raise and spend most of its own taxes and borrow on its own terms.
The party has proposed scrapping the Act of Union between Scotland and England and replacing it with a declaration of federalism.
The pro-independence Scottish Green Party said it was reaching out to communities across Scotland as the referendum campaign reaches its half-year-to-go stage.
Leader Patrick Harvie said: "I urge those who are as yet undecided to seize the opportunity to challenge both sides in this debate, and consider whether a Yes or a No gives the best chance of transforming Scotland into the more equal, more sustainable and more democratic society we're capable of becoming.
"Green Yes campaigners are reaching out to communities across Scotland. For us a Yes vote gives the best chance of achieving the kind of Scotland where wealth is more fairly shared, where nuclear weapons have no place, and where communities have real power."