Scottish Labour conference: Europe should control army says MSP Marra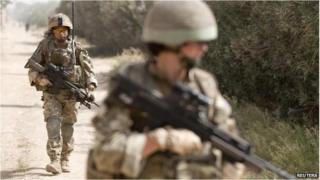 Sovereignty over defence should be removed from nation states and handed to a European defence force, a Labour MSP has said.
Jenny Marra said the current crisis in the Crimea revealed "the folly of nation states".
Her comments came during a fringe meeting at the Scottish Labour conference in Perth.
Ms Marra also rejected criticism of the "centralising" force of Brussels and dismissed an in/out EU referendum.
She said: "Anyone who has been watching the coverage following the media's reflections on the precipitation towards World War One a hundred years ago would see the folly of nation states.
"Defence forces constantly being in the power of nation states' hands is quite a dangerous place to be.
"I think the EU, looking to the future, perhaps a single defence force is certainly an idea that appeals to me, having been a Labour member who marched outside my own party's conference in 2003 against the invasion of Iraq."
The North East Scotland MSP went on: "The idea of taking defence out of the hands of nation states appeals to me.
"I know it's not necessarily a view that is commonly shared but I think it's one in 2014, a hundred years since World War One, we should reflect on.
"Certainly with the awful situation that is happening in the Crimea at the moment."