Scottish independence: Festival appeals for pro-Union comedian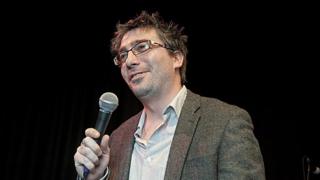 Organisers of the Glasgow International Comedy Festival have appealed for a pro-Union comedian to take part in a comedy event.
Both sides of the independence debate had agreed to take part in the show, which aims to take a light-hearted look at the referendum campaign.
But organisers say the pro-Union side pulled out of the event, leaving one side of the debate unrepresented.
Glasgow-based Keir McAllister will represent the "Yes" campaign.
The event, called Mibbes Aye, Mibbes Naw, takes place on Saturday and is hosted by referendum commentator Iain Macwhirter.
It is billed as a chance for both sides of the debate to put forward their case "with humour" and answer the question: "Can politics be entertaining?".
However, festival director Tommy Sheppard has taken to Twitter in the hope of filling the vacancy, tweeting that organisers were "desperately seeking a funny unionist" to take part.
'More humour'
Mr Sheppard told the BBC the show would go on regardless.
He said: "The hunt is on. I'm sure someone will step up to the plate.
"We asked both sides to put up a comedian and they both said they would, and then the 'No' side pulled out.
"We still don't know why. So we've put out an appeal for someone to step forward and defend the union in a light-hearted terms.
"We're confident we will find someone and the show will go ahead one way or another."
Last year, comedian and satirist Rory Bremner, who is also doing a show at the festival around Scottish politics, called for more humour to be injected into the referendum debate.
Comedian Eddie Izzard recently announced he would head the Please Don't Go campaign, aimed at providing a platform for people from the rest of the UK to support the Union.
He will host a fundraising gig for the campaign in Edinburgh on 4 April.
Meanwhile, supporters of independence will hold a comedy event a day later in the capital, featuring broadcaster and comedian Hardeep Singh Kohli.
According to Mr Sheppard, who owns the Stand comedy club in Glasgow, the "Yes" campaign appears to have won over more support from performers.
He added: "If you ask around comedians and actors, the majority seem to be in the 'Yes' camp.
"I think that's because independence is about self confidence and self expression and you're more likely to find that in people in the arts.
"They're used to having the confidence to go out and perform in front of an audience. That's not a lot different from a country having the confidence to go out and perform in the world."