Scottish Lib Dem conference: Alexander says UK is 'five minutes to midnight'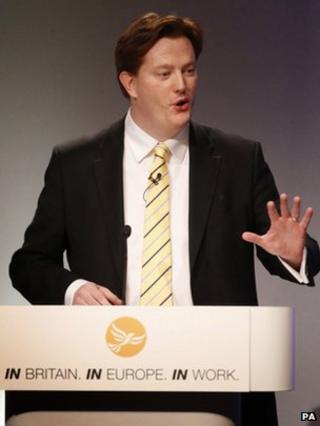 The UK is at "five minutes to midnight", as the Scottish independence referendum moves closer, the chief secretary to the Treasury has warned.
Danny Alexander told the Scottish Liberal Democrat Conference that "separation" was narrow and limited.
His speech in Aberdeen came ahead of the 18 September referendum on Scotland's future.
Mr Alexander also said the Tories "could not be trusted" with the economy.
Making the case for the Union, he compared independence with the split between actress Gwyneth Paltrow and Coldplay frontman Chris Martin, who announced the end of their 10-year marriage this week as a "conscious uncoupling".
The Highland MP told the conference: "We Scots have played our full part in our family of nations for over 300 years.
"Three hundred years of the most successful partnership between countries the world has ever seen.
"I love Scotland and I love Britain. Liberal Democrats we must defend against any conscious uncoupling of that great relationship."
And, choosing of a phrase commonly used to warn of impending global catastrophe, Mr Alexander added: "Make no mistake, in terms of the history of our country, we are at five minutes to midnight.
"There has never been a more important time for liberalism to come to the fore in our national life
"We know that nationalism and separation puts barriers between people.
"It is narrow in character and limited in vision
"It emphasises what is different between us - not what unites us."
He added: "Liberalism is about tearing those barriers down, And I want our home, our country to be open-minded and forward looking."
Mr Alexander also said having the Lib Dems in coalition government with the Conservatives, "anchors our country to the centre ground", so it could prosper.
He added: "Tories cannot be trusted to keep fairness at the heart of economic renewal.
"And by pushing Britain into a game of chicken with our largest market in Europe, the Tories, on their own, couldn't be trusted with the economic recovery either."