Scottish Lib Dem conference: Scott urges Labour heavyweights to join Union fight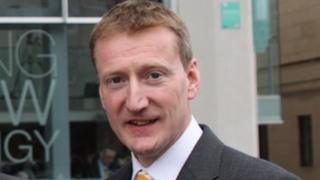 The official campaign to keep the Union needs more help from Labour heavyweights, former Scottish Lib Dem leader Tavish Scott has suggested.
Mr Scott's comments about Better Together came as he also said Labour had to do more to capture urban voters.
He added that campaign leader, former chancellor Alistair Darling, was not pulling in "crucial voters".
Mr Scott's comments came during a fringe event at his party's conference.
Highland Lib Dem MP and Chief Secretary to the Treasury, Danny Alexander, agreed that the "No" campaigners needed to "step up" their efforts.
But he rejected the view that Mr Darling was failing to pull "swathes of people" into voting for the Union.
Mr Scott, MSP for Shetland, told the gathering in Aberdeen: "I think the key part of the electorate that is potentially really motivated to vote in this referendum are people who really do despair, have no great hope, and can be won by an explicit message of just simply hope - and I give credit to the SNP for recognising that and targeting that."
He argued Labour figures like former Home Secretary John Reid and former Defence Secretary George Robertson - who have both since entered the House of Lords - would help their campaign, while suggesting former Lib Dem leader Charles Kennedy was perfectly placed to capture left-leaning voters.
Mr Scott said: "I think that voter, that left-leaning traditional Labour voter, does know who John Reid is, does know who George Robertson, does know who all those big Labour beasts are, and always used to vote for.
"I don't think those voters do know who the current echelon of Scottish Labour politicians are because, broadly speaking, the SNP and Alex Salmond have so dominated Scottish politics for the last seven years."
'Good job'
Mr Scott added: "I don't think Alistair Darling is pulling that whole swathe of people back into definitely voting for the union.
"What Alistair does is make an intellectual case, which he does very well. But it's a different sub-set of the electorate.
"What they really have to recognise here is the SNP has segmented the electorate into categories where they know they can attract people if they get the right kind of message.
"I don't think Better Together has done that yet."
Mr Alexander said of the former UK chancellor: "I think that Alistair Darling is doing a very good job in leading the Better Together campaign.
"He is particularly putting across the economic arguments, he is very powerful and very convincing."