Sillars v Galloway: How the independence debate is dividing the left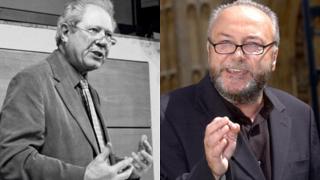 In many ways, Jim Sillars and George Galloway have much in common.
Both were Scottish Labour MPs at Westminster whose politics ultimately took them outside the Labour fold.
Both inflicted shock by-election defeats on their former party.
And both are now on the campaign trail ahead of Scotland's independence referendum.
But while Mr Galloway wants to influence Labour at a UK level, Mr Sillars hopes for "a rejuvenated left-wing Labour Party" in an independent Scotland.
Mr Sillars sees a "Yes" vote as "the only thing that will deliver to the working class people in Scotland". His left-wing counterpart describes independence as "a divorce which will destroy everything".
Their situation illustrates the sharply different approaches that the radical left has taken to the independence debate.
While neither is at the bosom of the official referendum campaigns, both men are doing their bit to win over the voters for their respective sides.
On a Monday night in Motherwell, North Lanarkshire, Mr Sillars prepared to address a meeting organised by local pro-independence campaigners.
The former deputy leader of the SNP has come out of retirement for this campaign and told me he had another four such meetings lined up that week.
Mr Sillars began his political career long before Scottish independence topped the agenda, having been elected Labour MP for Ayrshire South in 1970.
He told me: "I began my political career as a very, very fundamental unionist, and I think it's quite important for people to understand that.
"I've moved from a unionist to devolution to independence.
"I moved from unionism through my experience as a member of parliament at Westminster. It took me about two years after I was elected to realise that that place could not deliver to the working class people that I came from, and at first I thought all we needed was some form of power north of the border.
"But once I had the time to, in a sense, escape from the unionist mindset and examine devolution in a much more critical fashion, I came to the conclusion that actually independence is the only thing that will deliver to the working class people in Scotland."
The 76-year-old has published a book, In Place of Fear II, setting out his policy vision for an independent, socialist Scotland. The title is a nod to a 1952 book of essays by Labour left-winger Aneuryn Bevan.
In his introduction to the original In Place of Fear, Bevan wrote that the urgent question for him was: "Where does power lie in this particular state of Great Britain and how can it be attained by the workers?"
In Place of Fear II describes a different priority: "The socialist movement in Scotland has never been able to pursue its policies here because no matter how we vote in the elections in which lie real power, those for the Westminster government, the Scottish tail can never wag the southern dog."
'Jumping to safety'
Mr Sillars said: "The Labour movement in Scotland actually permanently now carries the English middle class on its back, because to win in Westminster the Labour Party has to pander to middle England, and you cannot pander to middle England and at the same time deliver the working class policies that we require in Scotland."
And what of the working class in England, Wales and Northern Ireland? He offered a stark analogy about Scotland's choice.
He said: "If there were two people on the deck of the Titanic, one could jump to safety and the other, for a variety of reasons, could not do so, and the one who could not do so said to the one who could: 'Out of solidarity, I want you to drown along with me.'
"I think any sensible person's answer would be: 'Well, that would be very nice but I'm jumping to safety'."
As Mr Sillars hit the campaign trail, so did Mr Galloway.
He was his usual combative self on stage at the Regal Community Theatre, Bathgate, West Lothian - one venue for his Just Say Naw tour, which he has partly funded himself, separately from the pro-Union Better Together campaign.
The Respect MP for Bradford West will not have a vote in the referendum but says that he had to get involved as the polls were "too close for comfort".
Backstage before the show, he told me he has cancelled his summer holidays and left his pregnant wife in London to take his anti-independence message to Scotland. He has even booked a tour bus for the summer and will be taking his new baby on the road.
He said "It's not an ordinary election.
"It's not electing a government, here today, gone tomorrow. It's about a divorce which will destroy everything, in my opinion."
The 59-year-old conceded that Scottish politics had undergone a shift in the nearly 10 years since he was a Glasgow Labour MP but did not think the move had been towards socialism.
Mr Galloway explained: "Although the far left in Scotland is small in numbers, they've all got a Twitter account and they don't lack energy. And undoubtedly their swing away from socialist positions to nationalist ones has made a difference.
"And there's also, no doubt as the day becomes closer, a number of people who can become intoxicated with nationalist ideas. Nigel Farage is proving that in England and Alex Salmond is proving it in Scotland."
And if he had remained an MP in Scotland?
Mr Galloway says: "It would certainly have never happened to me, because my class politics analysis has not changed since I was 16 years old and it's not going to change now."
Could he sympathise with those on the left in Scotland who see independence as the only route to getting the society they want?
The answer is clear: "They're the last people I can sympathise with, because they ought to know better, and once upon a time did know better. Jim Sillars was the hammer of the nats.
"The idea that our problem is people like us on the other side of a border on a small island is complete anathema to my politics, and once to theirs."
Mr Galloway added: "We are all of us victims of a social and economic system, and that social and economic system not only dominates all of this island but will dominate it forever if we weaken ourselves to the point that we're unable to resist it and change it."
Whatever the referendum result in September, neither man has any guarantee that their respective visions will come to pass.
Mr Sillars' manifesto envisions a Scotland of increased taxes on the rich, with higher spending on schools, housing and pensions. Multinational companies would require a "licence to trade" as many avoid corporation tax, the book argues.
In contrast, the Scottish government has said it intends to cut corporation tax in an independent Scotland to 3p below the UK rate and First Minister Alex Salmond has not committed to higher taxes for the rich.
Mr Galloway argued in his live show that these policies meant an independent Scotland would be forced into a competitive "race to the bottom" with the remaining UK to cut taxes and public spending.
He told me: "It's odd that Sillars thinks there will be a rejuvenated left-wing Labour Party in Scotland, but denies absolutely the possibility of rejuvenation and a move to the left in the UK as a whole.
"I just don't accept that."
Mr Sillars pointed out that Mr Galloway had been a fierce critic of his former party, memorably describing Labour and the Conservatives as "two cheeks of the same backside".
He said: "On the one hand, he denounces them all as useless, says that the British institutions are corrupt to the core and then tells us that somehow or other, a magic formula is going to be applied that will turn the Labour Party in England into a socialist organisation.
"I think George is living a fantasy as far as that's concerned."
The language used by these two Scotsmen is always eloquent, yet at times cutting.
They ooze passion and promote the importance of what lies ahead for voters taking part in the 18 September poll.
Mr Sillars and Mr Galloway are certain about what they believe and they want people in Scotland to be certain too.
For this pair, two things are a given - they are resolutely the together-men of the left, but they will forever be divided when it comes to the question of where Scotland's future should lie - in or out of the Union.