MSPs want 'right to buy' council homes scrapped within a year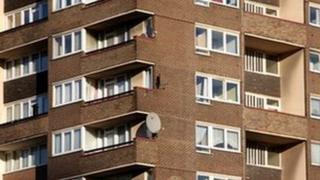 MSPs have called for the "right to buy" rented social housing at discounted prices in Scotland to be abolished within a year.
Members of the Infrastructure and Capital Investment Committee said the policy was outdated and too many homes were being lost.
The Scottish government has ended "right to buy" for new tenants and aims to scrap it altogether in 2017.
It said tenants needed a "reasonable window" to exercise their rights.
The MSPs, who have been scrutinising the Housing (Scotland) Bill, said that timescale was too long and should be accelerated.
Committee convenor Maureen Watt MSP said the majority of members agreed that social housing should no longer be available to tenants to buy.
Ending the policy, first introduced by Margaret Thatcher in the 1980s, would help stop affordable rented housing being lost, she said.
"Having taken that decision, we think the proposed three-year timescale to abolish right to buy is too long," she added.
"We feel a notice period of one year is adequate to allow people who have a right to buy to decide if this is the right option for them."
Smoke alarms
The committee also recommended more stringent safety measures for the private rented sector, including:
mandatory five-yearly checks on electrics carried out by a registered electrician
provision of mains-powered smoke alarms in all rented properties
installation of carbon monoxide alarms on a mandatory basis
The MSPs' report argues the bill could be further improved by strengthening measures to clamp down on rogue letting agents and park home owners.
It suggests that more work should be done to identify letting agents who are not registered, and the sharing of information between local authorities.
Housing Minister Margaret Burgess said: "I am clear the notice period must strike a balance between the need to protect homes as soon as possible, and the need for tenants to have a reasonable window to exercise their rights before abolition.
"I will consider the committee's recommendation very carefully ahead of its stage 2 consideration of the bill."