Scottish independence: Eddie Izzard urges Scots to stay in UK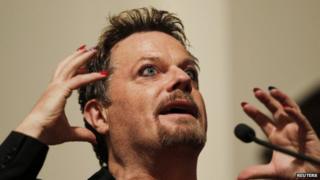 Comedian and actor Eddie Izzard has called on voters in Scotland to back the Union, ahead of September's independence referendum.
He supported a new campaign encouraging people living elsewhere in the UK to have their say on Scotland's future.
The "Scotland, Please Don't Go" drive was unveiled by the pro-Union Better Together campaign.
Comedian and independence supporter Elaine C. Smith said Izzard might vote "Yes" if he lived in Scotland.
The English comedian recalled watching Andy Murray win gold for Team GB at the London 2012 Olympics.
"It wasn't me, an Englishman, saying look there's a Scotsman," he said.
"It was just that we are British, and he was winning, and it was us, and I think that is beautiful.
"If you look back at the history of what used to happen between the Scots and the English, the war and the blood and the death, I think it is beautiful that we have got to this position of being together."
Mr Izzard added that he was happy for Scotland to have more powers within the UK.
"I think the more powers that Scotland wants, logical governance should mean that they should have as many powers. I would assume defence would be more collective."
'Progressive country'
The "Scotland, Please Don't Go" campaign aims to encourage people living in England, Wales and Northern Ireland to join the independence debate, even if they do not have a vote in the 18 September referendum.
Speaking for the pro-independence Yes Scotland campaign, Elaine C. Smith said: "I love Eddie Izzard, I think he's a real genius as a stand-up and I have seen him several times.
"I know he loves Scotland and I am sure he'll be very funny, but, to be serious, I think most of the media and London-centric elite need to understand what's going on here in Scotland.
"It seems to me that there's a huge number of Scots who've left, as well as others who don't have an accurate view, and have no idea what Scotland is like since devolution and the progressive country we are and how we want to live.
"If Eddie was living here I'm sure he'd be voting 'Yes' because the independence movement encompasses all of his progressive ideals and his desire for a better and different society."
On 18 September voters in Scotland will be asked the "Yes/No" question: "Should Scotland be an independent country?"