Scotland's European election: A basic guide on what to know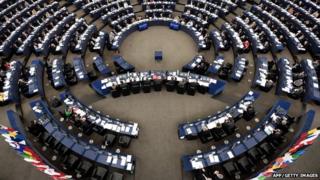 You might not have heard much about the 2014 European election - but it's happening in Scotland next month. So, what's it all about? Who can you vote for? And will Scotland stay in Europe? We explain what you need to know.
When and what is it?
The European Parliamentary elections take place across the continent between 22 and 25 May.
There will be 751 seats up for grabs, with 73 of those coming from the United Kingdom - including six from Scotland.
Voters in Scotland will go to the ballot box on Thursday, 22 May, and the MEPs they elect will represent them in the European Parliament for the next five years.
What do MEPs do for me?
You elect an MEP who then deals with European issues on behalf of Scotland.
They can debate, vote on and create European legislation in the European Parliament.
If you have an issue with a European law, you can contact your MEP to help deal with your concern.
A Scottish MEP will typically divide their time between Scotland and Brussels.
So, what are my options on the ballot paper?
A number of parties - big and small - field candidates for the European election.
There will be six members each from Labour, Conservative, Liberal Democrats, SNP, Scottish Greens and UKIP, alongside a host of smaller parties.
At the 2009 election, Scotland elected two SNP, two Labour, one Liberal Democrat and one Conservative.
Of Scotland's six current MEPs, only the Conservative Party's Struan Stevenson will not stand for re-election.
So, are we definitely staying in Europe?
This has been a contentious issue in the Scottish independence debate.
The Scottish government believes Scotland would negotiate the conditions of its membership while still being part of the UK, therefore not leaving the European Union at any stage. Voices against independence dispute this assertion, saying a go-alone Scotland would be a new member state and would therefore have to be accepted by all other existing states.
There's also the chance the UK could vote to leave the EU. Prime Minister David Cameron has proposed a referendum on EU membership - but only if his Conservative Party wins the 2015 UK election.
A BBC poll suggested 35% of those surveyed would want to stay within the EU, with 32% wanting to leave, 27% undecided and 6% saying they would not vote.
How do I vote?
First, you need to ensure you're registered to vote.
If you're not registered, or you're unsure, you can contact the Electoral Commission.
You can apply for a postal vote, but you must do this by 17:00 on 7 May. You can also nominate someone to vote on your behalf and you must do the paperwork for this by 17:00 on 14 May.
But the majority of the electorate will vote on the day of the poll. Your local polling station will be open at 07:00.
When polls close at 22:00, counting in the UK can start - however, the results can only be declared after 22:00 on Sunday, 25 May. That's because polling day in a number of European Union countries takes place on a Sunday.
To find out more on the European election, go to European Parliament's information page.