Ruth Davidson: Former journalist on politics, family and what makes her angry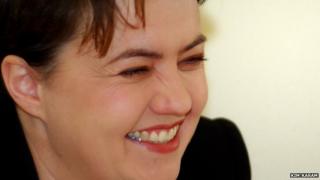 As part of a series of conversations with high-profile women in the independence debate, Scottish Conservative leader Ruth Davidson speaks to the BBC's Marianne Taylor about politics, the importance of family, her hopes for the future and what makes her angry.

The first thing that strikes you about Ruth Davidson is her energy.
The leader of the Scottish Conservatives bounds into a small meeting room to begin the interview just as the fire alarm goes off in the Scottish Parliament.
I struggle to keep up with her as she strides outside to the meeting point; she was once a signaller in the Territorial Army and there is definitely something military in her gait.
Along the way she chats to just about everyone she meets, and bear hugs an old friend who happens to be filming outside Holyrood. Thankfully, it's a false alarm.
Ms Davidson is a woman who smiles and laughs easily - you get the impression that although she takes her job extremely seriously, she doesn't take life too seriously.
She explains: "I think it's important that you've got something outside of politics.
"If you lived, slept and breathed nothing but politics you'd be a pretty dull person and you'd have less understanding of other people's lives."
Glasgow-based Ms Davidson is young, female and openly gay, and had a successful career as a journalist and broadcaster before she entered politics - not the "privileged" Tory type that opposition parties at Holyrood and Westminster often seek to set against "ordinary folk".
Leader since 2011 - when Annabel Goldie resigned following the last Holyrood election - she is keen to stress what she refers to as her "normal" background.
She went to her local comprehensive school, Buckhaven High in Fife, then on to Edinburgh University to study English, and has worked as "almost everything you care to mention", from a shop assistant to an open-top bus tour guide.
"I've got the same stresses and strains as everyone else - trying to get a deposit together for a flat, having a company I worked for going into liquidation, going to the job centre.
"These are points in my life that I think relate to other people.
"The most important thing for me is my family. My sister lives down south and I've got a young niece and nephew. My parents still live in Fife. I don't get to watch as much telly as I used to, but I try and do as much normal stuff as I can. I still go hill walking, play five-a-side and go boxing when I can," says Ms Davidson.
Although interested in politics and current affairs from a young age - ("I'll always remember being allowed to stay up to watch the Berlin Wall come down, the night before my 11th birthday," she says) - she didn't get involved in politics until 2009, and says she never expected to be leader so soon.
She took over the reins of her party just six months after being elected to the Scottish Parliament.
'Dodgy chat-up line'
Her party has 15 of the 129 MSPs at Holyrood and just one MP at Westminster but you get the sense that the referendum campaign has given the Scottish Conservatives, and indeed Ms Davidson, renewed vigour as well as the biggest public platform either have had for some time.
She says: "Everybody in the political sphere is incredibly privileged to be working on the biggest story in Scotland for 300 years.
"This is real history being made, and [the outcome] will affect all of us for the rest of our lives, our children and their children."
A leading member of the pro-Union Better Together campaign, Ms Davidson has joined forces with her Labour and Lib Dem opponents to oppose independence.
She is one of three prominent women at the forefront of the independence debate, alongside Labour's pro-Union Johann Lamont and Nicola Sturgeon, the pro-independence deputy first minister.
Research by the Scottish Social Attitudes Survey suggests women are less likely to favour independence than men, though the gap between the genders is narrowing ahead of the referendum on 18 September.
Whatever the evidence, both campaigns say women - who make up more than 50% of Scotland's population - will be crucial to the eventual outcome.
Asked why she thinks women seem keener to vote "No" Ms Davidson smiles that it's because they can "tell a dodgy chat-up line when they hear one".
Ms Davidson adds: "I think women, particularly - and the research backs this up - are very aware of what matters to them and their family and that they want assurances.
"They don't want the dodgy chat up line, they want to know what's going to happen next. A lot of the questions they have aren't being answered, and until those questions are answered, they are very reticent to commit."
She believes that in the head versus heart element of the debate, women are "maybe a bit more 'head'" than men.
"[Research] showed it wasn't 'women's issues' such as childcare and social care, it was bigger issues too to do with the economy.
"I think the reason people who choose to vote 'No' will do so is because they recognise the strength and stability they have as part of the UK.
"They see a genuine benefit for them, their job, their family.
"In terms of the 'heart' issue, they feel they get to be Scottish and British together, and somebody wants to take that away from them without telling them what they get in return," says Ms Davidson.
Although she has been involved in launching Better Together groups aimed specifically at women, Ms Davidson points out that "a lot of women feel they shouldn't be ghetto-ised".
She explains: "Annabel Goldie, our constitutional spokesman, is out there with me in the trenches spreading the message every day.
"She's there not because she's a woman, but because she's bloody good at what she does.
"I'm trying to reach people who have never voted Conservative, and Annabel is a great secret weapon for us - everybody loves Annabel.
"We're the two frontrunners in making the case for our party and it just so happens that we are women. I'd like to hope that we are effective at what we do, irrespective of gender."
Ms Davidson says Margaret Thatcher "changed perceptions" for women in politics, but she won't be drawn on whether the former prime minister, still a very divisive figure in Scotland, influenced her directly.
She also dismisses my suggestion that all those who grew up in the 1980s and 1990s are, in some sense, "Thatcher's children".
The Scottish Tory leader smiles as she tells a story about meeting up with her childhood friend and the friend's parents just after attending Baroness Thatcher's funeral at St Paul's Cathedral in April last year.
While reminiscing about days gone by, her friend's mum recalled the day the then-Mrs Thatcher resigned.
"Her mum said: 'I remember you two coming in from school and me telling you Margaret Thatcher was no longer prime minister. And you [Ruth] turned to me and asked 'can a man even be prime minister?'"
So, would Ms Davidson want to be prime minister - or indeed first minister?
She says: "There are things I want to achieve in politics and I have to be in government to achieve them.
"I'm ambitious - for the party, for politics in Scotland, for the centre-right in Scotland. There's a lot of change I want to see."
Political career
Asked whether she would be attracted to a career in Westminster, she says she is happy living and working in Scotland and describes becoming an MP in the House of Commons as a "demotion" from her current job.
Politics, of course, is an unpredictable business and reaching the top of your party at the age of 32 is an unusual, if impressive, feat.
Ms Davidson becomes pensive when asked whether she will spend the rest of her career in politics.
"There are other things I could see myself doing," she muses. "I don't think I'm going to be carried out of here in a box."