Scottish independence: Scotland can be a 'great nation', says Salmond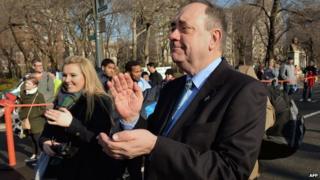 Scotland can "aspire to be a great nation, without desiring to be a great power", First Minister Alex Salmond has said.
Delivering a lecture in New York, Mr Salmond argued that "greatness can only come from influence, not force".
He added that an independent Scotland would work "constructively" with Nato.
Alistair Darling, leader of the pro-Union Better Together campaign, said Scotland had "strength, security and stability" as part of the UK.
The first minister visited the US as part of Scotland Week, an annual celebration of cultural links with North America.
He gave the inaugural Caledonian lecture, telling his audience at Glasgow Caledonian University's New York campus that Scotland would play a role in the world if voters favoured independence in September's referendum.
"You can aspire to be a great nation, without desiring to be a great power," he said.
"The USA is both but most nations can't be, and they reduce their chance to be a great nation if they pretend to be a great power.
"For most countries, greatness can only come from influence, not force; from soft, not hard power; from enlightened self-interest, not self-interest alone."
'Neighbours and partners'
Mr Salmond said that small nations had an influence in the world.
"Countries can exercise influence through the scale of their ambition and the strength of their ideas, rather than the size of their armies, their populations, or their territories," he said.
The Scottish government supports the removal of the UK's Trident nuclear weapons from an independent Scotland, with the country remaining in Nato.
"We won't have nuclear weapons - nobody seriously believes that a nation of five million people should be a nuclear-armed power," Mr Salmond told his New York audience.
"But we will co-operate fully and constructively with our neighbours and partners, like the 25 Nato members - out of 28 - which are not nuclear powers.
"And we will join 193 other members of the United Nations, demonstrating a strong commitment to international law, and working with partners from around the world."
'Security and stability'
The first minister's speech came on the same day that former Nato secretary general Lord Robertson, also speaking in the US, claimed a referendum "Yes" vote would threaten the stability of the wider world.
Scotland's Deputy First Minister, Nicola Sturgeon, called Lord Robertson's comments "deeply insulting".
Former UK Chancellor Alistair Darling, also in the US at an International Monetary Fund seminar, said: "Scotland has a unique identity, culture and heritage that is celebrated throughout the world, including here in the United States.
"Being part of something bigger doesn't take away from that. No matter where you go in the world people recognise that as Scots we are proud of our distinctiveness.
"We don't need to choose between our unique Scottish identity and the security that comes from being part of something bigger."
He continued: "We can have the best of both worlds - our strong Scottish Parliament with the guarantee of more powers, backed up by the strength, security and stability of being part of the larger UK. Why put this at risk?"