Consultation aims to raise voter turnout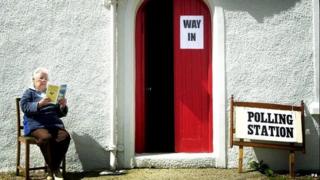 A new consultation has invited views on ways to improve election turnout in Scotland, including extending the vote to 16 and 17-year-olds.
Young people aged 16 and 17 are already eligible to vote in September's independence referendum.
Other measures could include alternative methods of voting such as online or by telephone.
Local Government Minister Derek Mackay said he wanted to "strengthen and improve" the democratic process.
The consultation paper Scotland's Electoral Future drew on responses to the 2012 local government elections.
The paper stated that the 2012 local elections saw a turnout of 39.8%, the lowest level since 1995.
The minimum voting age for elections is 18, but the Scottish government has called for the extension of the franchise to 16 and 17-year-olds, arguing that the status quo could mean young people becoming disengaged from politics.
Voters aged 16 and 17 have already been granted a vote in the forthcoming referendum on Scottish independence and in elections to public bodies in Scotland such as health boards.
However, elections to health boards were abandoned after a pilot resulted in low voter turnout.
In addition to proposals to extend the franchise, the consultation asked for views on alternative methods of voting. The proposals include:
Universal postal voting
Electronic machine voting
Online voting
Telephone voting.
Mr Mackay said: "I want to see how we can strengthen and improve our electoral processes and encourage wider democratic engagement.
"This consultation is an opportunity for people to make their views clear on how we can improve voter turnout in Scotland.
"Voter turnout for local government and Scottish Parliament elections has been in decline, in common with other developed countries, and we are determined to challenge that trend."
Responses will be accepted until 11 July and the results could inform the running of the next Scottish Parliament elections in 2016, as well as future local elections.