Scottish independence: Debt dump worth more than oil, says CPPR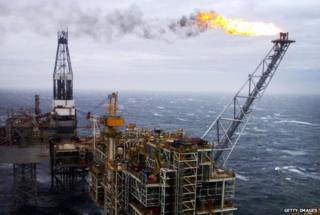 Dumping a share of the UK's debt would be worth twice as much to an independent Scotland as North Sea oil, academics have said.
It would improve the nation's fiscal balance from an otherwise poor outlook, the Glasgow University report said.
Scottish ministers said it demonstrated Scotland's strong position in the event of a referendum "Yes" vote.
The pro-Union Better Together campaign said only the Scottish government had threatened to "default" on debt.
The report, published by the university's Centre for Public Policy for Regions (CPPR), said a low or zero share of the UK debt would "substantially improve Scotland's fiscal balance" from the otherwise "poor" economic outlook it faced if it took a population-based share of debt if Scotland voted for independence in the 18 September referendum.
'Servicing costs'
But the Scottish government's "flawed" threat to dump the debt if an independent Scotland could not share the pound under a currency union with the rest of the UK could lead to cross-border acrimony and disturb international markets, leading to "punitive" borrowing costs, it added.
CPPR economist John McLaren said: "Scotland's share of current debt servicing costs is twice the size of projected future oil revenues.
"However, any benefit arising to an independent Scotland from starting with zero historic debt would be heavily influenced by whether this was achieved via amicable negotiations or through Scotland's refusal to accept what the remainder of the UK consider to be an appropriate share."
According to the report, the £5.5bn improvement seen in Scotland's 2016-17 fiscal balance through not having to service existing debt was worth twice as much as the contribution from North Sea tax revenues in that year, which was put at £2.7bn, using a geographic share of the latest forecasts from the Office of Budget Responsibility.
'Responsible view'
Scottish Finance Secretary John Swinney said: "This report shows exactly how strong a hand Scotland will have in negotiations following a vote for independence, and also shows exactly why it will be in the overwhelming economic interests of the rest of the UK to negotiate fairly and openly.
"The UK Treasury has already made clear that, in the event of independence, it will remain legally liable for the entirety of UK national debt.
"However, the Scottish government takes the fair, reasonable and responsible view that an independent Scotland should pay for a fair share of debt - but any agreement which includes liabilities must also include a fair share of the assets of the current UK and the pound."
A spokesman for Better Together said: "Only Alex Salmond is suggesting that Scotland would default on our share of the debt if we leave the UK.
"People know what happens if you don't pay your debts - you end up with a bad credit rating and everything is more expensive.
"That would mean far higher mortgage repayments, higher credit card bills and higher costs for families."