Scottish independence: Claims women are 'more sceptical'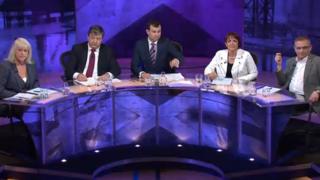 Women are more sceptical about Scottish independence because they favour "head-over-heart" arguments and are better at spotting "bluff", it has been claimed.
The comments came from Scottish Secretary Alistair Carmichael and ex-Labour MP Brian Wilson.
But Scottish government minister Angela Constance said support for independence among women was rising.
Broadcaster Lesley Riddoch told a BBC TV debate that affordable childcare would be a "game-changer".
Ahead of the 18 September independence referendum, both sides of the debate have been putting forward policies to win over undecided female voters.
Mr Carmichael said: "I think that women are more drawn to arguments of the head rather than the heart.
"Talking to people on the doorstep, I feel that women in particular are saying, 'well, what will this mean for me, for my household budget, for my children'."
The Scottish government has said a "Yes" vote was needed to implement a planned massive expansion in childcare to help women back into work and boost the economy, although the Scottish secretary said SNP ministers already had the devolved powers to pursue the policy.
Board participation
Scottish First Minister Alex Salmond used his speech at the SNP conference to announce Ms Constance would be promoted from junior minister to the Scottish cabinet, as he said companies should aspire to at least 40% female participation on their boards.
Ms Constance said on the issue: "I think the most recent polls that I have seen had shown that support for independence amongst women was actually rising.
"Nonetheless, we need to do more, because women are 52% of the population, they've got absolutely every right for their interests, their needs, their aspirations, to be fully represented."
Asked about female support for independence, the Scottish youth employment minister added: "I think it's often about the practicalities of life.
"Irrespective of whether you're a woman who stays at home to look after your children or whether you're a working mother, quite often you've got quite a lot on your plate as it is in terms of childcare."
More nurseries
Mr Wilson, a former UK energy minister, told the programme, which came from Kirkwall: "I think women are better at recognising bluff, bluster and bad patter."
On childcare, he added: "Anybody with any sense knows that you don't need to change the constitution in order to build more nurseries.
"When the nationalists came into office, Scotland had a better level of childcare than the rest of the UK, a higher number of hours.
"To use childcare as a bargaining chip in the constitutional debate is very, very dishonest."
Ms Riddoch, who supports independence, said women were more sceptical than most when it came to promises of big change, adding: "What often happens with changes is that it's the same type of person that remains in charge.
"And the only point in having a change this time would be to create a different kind of society in Scotland, which is a much more egalitarian one, and in which women would have much more of a chance of equal participation.
"And the utter game-changer that surely must come, whichever vote, 'Yes' or 'No', wins and whichever party wins the next election: we have to get childcare, affordable childcare as an absolute benchmark of society in Scotland because we're lagging so far behind."
Shadow Scottish Secretary Margaret Curran this week launched Labour's pitch to women voters ahead of the referendum, saying half of Scottish public boards would in future be made up of women.
She also said companies would be forced to publish pay differences between male and female workers.