Scottish independence: STV quits CBI over referendum stance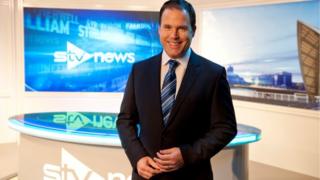 Broadcaster STV has become the latest company to leave the CBI after the employers' body formally backed the campaign against Scottish independence.
In a statement, STV said rules on impartiality meant it had "no choice" but to resign from the organisation.
It comes the day after Aquamarine Power and the Balhousie care home group also announced they were quitting the CBI.
The CBI said it was confident the "vast majority" of its membership agreed with its stance on independence.
It has registered with the Electoral Commission as a backer of the pro-Union campaign.
The registration as a non-party participant allows it to spend up to £150,000 on campaigning during the regulated period from 30 May until the referendum on 18 September.
However, it is understood the CBI (Confederation of British Industry) - which is the leading body in the UK representing large employers - has no money earmarked to influence the campaign.
Confirming that STV had resigned its membership, a spokeswoman for the Glasgow-based broadcaster said: "STV is a public service broadcaster with a duty of impartiality and as such we have no corporate or editorial position on the independence referendum in September.
"In light of CBI Scotland's decision to register with the Electoral Commission we have no choice but to resign our membership of CBI Scotland forthwith."
Responding to the withdrawals, a CBI spokesman said: "While any member deciding to leave is a cause for regret, the CBI is confident we have a mandate from the vast majority of our membership on the question of Scottish independence.
"As the UK's biggest business group, our members employ around half a million people in Scotland, which gives us a significant voice in the referendum debate."
But in an open letter to CBI Scotland chief executive Iain McMillan, which was released on Friday, Select - which represents 1,250 engineering companies - said: "In taking this action you do not reflect our views."
The letter added: "The owners of our member companies and their employees, like the rest of the Scottish population, cover the full range of political affiliations.
"We are agreed that the way in which each and every person associated with Select votes is a matter for them alone."
A spokeswoman for the pro-independence Business for Scotland organisation said: "We are pleased to hear the news that STV has responded to the pressure we have been exerting and that, like others, they are withdrawing their membership from the CBI."
On Friday, the Better Together campaign, which is campaigning to keep Scotland in the UK, said: "Over the last few months, employer after employer have raised legitimate concerns and asked genuine questions about what leaving the UK would mean for their businesses and for Scottish jobs."