Scottish independence: Cameron and Salmond make appeals on St George's Day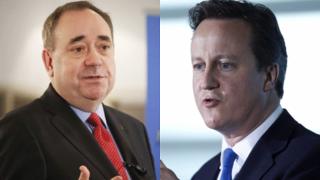 Scotland's First Minister Alex Salmond and UK Prime Minister David Cameron have used St George's Day to make pleas ahead of the independence referendum.
Voters in Scotland go to the polls on 18 September.
Mr Cameron said Scotland should remain united with England in the "world's greatest family of nations".
Mr Salmond told an audience in Carlisle that an enduring friendship would remain between England and Scotland after a "Yes" vote.
He said to gathered business people that you can "still live in Annan and work in Carlisle or live in Penrith and work in Lockerbie".
The SNP leader added: "Friends and family would continue to visit each other. We would still watch many of the same television programmes.
"People from Scotland and England would still celebrate personal unions - by getting married in Carlisle Cathedral or perhaps by going to Gretna instead."
In his message on the feast day of the English saint, Mr Cameron said it was possible to be proud of the individual nations in the United Kingdom while remaining committed to the union.
The Conservative Party leader said the UK was a "global success story" and "no matter how great we are alone, we will always be greater together".
Mr Cameron added: "This St George's Day, I want us to reflect on one of England's greatest achievements - its role in the world's greatest family of nations - the United Kingdom.
"In just five months, the people of Scotland will go to the polls and decide whether they want to remain a part of this global success story.
"So, let's prove that we can be proud of our individual nations and be committed to our union of nations.
"Because no matter how great we are alone, we will always be greater together."
The cross of St George flew above No 10 as Mr Cameron believed the patron saint's day had been overlooked "for too long" in the past.
In a specific message to the English he said: "More and more people are coming together on or around 23 April, eager to celebrate everything it is to be English. And there is much to celebrate.
"Because this is a country whose achievements in industry, in technology, sport, music, literature and the arts - they far outweigh our size."
When voters in Scotland go to the polls, they will be asked the "yes/no" question: "Should Scotland be an independent country?"
Mr Salmond repeated in his speech his belief that an independent Scotland would share the same sterling currency as the rest of the UK.
He said: "An independent Scotland will be an economic counterweight to London and the south east of England - causing a much needed and fundamental rebalancing of these islands.
"An independent Scotland will work in collaboration with our friends and colleagues in the north of England to improve economic circumstances and job opportunities for all our citizens."
The first minister confirmed that in the event of a "yes" vote, the Scottish government would host a series of forums on economic co-operation with the north of England.
Meanwhile, the English Democrats have urged those who identify themselves as English to make St George's Day "the best ever".
Its chairman, Robin Tilbrook, said the "English flag should be flying high on every flagpole in England upon St George's Day".