Councils 'too distant from communities', report claims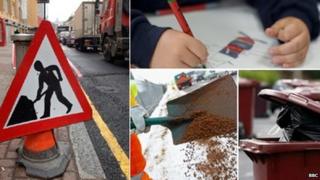 Scottish councils have too little power and are too distant from the communities they serve, according to a report.
The Commission on Strengthening Local Democracy says that with 32 councils, Scotland has a low number by international standards.
It also claims there has been a 50-year process of centralisation in Scotland.
Local government group Cosla hopes to start a debate on how to address this.
The commission was established by Cosla last autumn to look at how local government in Scotland might evolve after the independence referendum, regardless of the result.
It argues Scotland will never be a fairer, healthier or wealthier place unless people can see how decisions are made and feel in control.
Specific needs
The commission's interim report studied a range of information from more than 200 individuals and organisations.
It argues that, by international standards, Scotland has a very low number of local authorities and that they have too little guaranteed power, too little control of their finances and a uniform set of powers, regardless of the specific needs of each local area.
The report argues there has been a trend over the past 50 years towards the centralisation of power and suggests that Scottish councils are too remote from the people they serve, compared to those in many other European countries.
Sweden, with a population twice that of Scotland, has 290 councils while Finland, with a population roughly the same as Scotland, has 320.
Chairman of the Commission Councillor David O'Neill - who is also Cosla president - said: "This report is a rallying call for stronger local democracy in Scotland. When I launched the Commission six months ago I said that its main function would be to start up a conversation with the people of Scotland.
"Over the last six months when hearing from over 200 individuals and institutions the nature of that conversation has become very clear. We have heard that local democracy matters, we have heard that local democracy is valued.
"We have also heard that local democracy works best when it is meaningful and accessible.
"Today's report is not the finished article but it has allowed us to put forward a view based on our conversation with the people of Scotland."
Mr O'Neill argues there needs to be a change in the way local democracy is seen in Scotland and that councils need to be empowered.
He added: "Our conversation to this point has been a good start and we want to make these interim findings a stimulus for continued dialogue.
"So far the Commission process has challenged and changed entrenched ways of thinking. Our next task is to develop and refine these ideas and to focus on their implications in our final report in the autumn."
Against the flow
But any implication there could be more local authorities within Scotland goes against the direction of travel in other devolved nations of the UK.
In Northern Ireland there will be 15 councils from next year instead of the current 26.
In Wales - where the system of local government is similar to Scotland's - there are currently 22 unitary authorities. A recent report argued the number should be halved.
The current local government structure in Scotland is straightforward even if critics may argue there are too many councils rather than too few. The 32 local authorities have identical powers.
Before 1996, there was a much more complex structure - in each part of the mainland there was both a regional council and a district council with specific responsibilities.
Up until 1975, the structure was even more complex and disparate - a mixture of county councils, town and burgh councils and the city corporations.
In some parts of the country there was one council - in others two - while some smaller county councils effectively joined together voluntarily.
One question now is whether the system of local government should be consistent across the country. The three island authorities are campaigning for additional powers.
Reinvigorate democracy
Another question might be whether directly elected mayors could reinvigorate local democracy. Despite the high profile of the Mayor of London since the post was established in 2000 there has been a mixed response in some other parts of England to following this example.
Councils also have relatively little control of their finances - the vast bulk of their cash comes from the Scottish government while, in practice, the terms of the council tax freeze has reduced their flexibility.
Another thing the commission may look at now is how to separate local democracy itself from the structures of the organisations used to provide council services.
There have been some moves in Scotland to share services between councils - for instance East and South Ayrshire Councils have just launched a joint agency to look after roads.
The argument is that agencies like these can cut overheads and bureaucracy but still remain accountable separately to each council.