Scottish independence: Alex Salmond outlines EU potential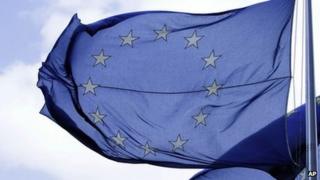 Alex Salmond will say Scotland is at the very heart of the European Union in a speech in Belgium on Monday.
The first minister is due to tell those gathered at the College of Europe in Bruges that Scotland has a key role to play when it comes to energy security.
The country's natural resources make it one of the "lynchpins" of the EU, he will say.
Pro-Union parties have questioned the SNP's plan for an independent Scotland to become an EU member.
The College of Europe was the world's first university institute of postgraduate studies and training in European affairs.
Mr Salmond will say: "Our huge energy reserves, our economic and financial contribution, our fishing grounds, our academic, cultural and social links, and our commitment to the founding values of the European ideal place us at the very heart of the EU.
"One of the great issues facing Europe is the question of energy security. In this area Scotland is blessed. We have a key role to play in providing energy security for Europe, and in developing the low carbon technologies the world will need for the future."
He will also say: "Scotland has fully 25% of Europe's offshore wind and tidal potential. We have 10% of the EU's wave potential. We have 60% of the EU's oil reserves. But our importance to the European Union stretches further.
"As one of the wealthiest countries, Scotland is a net financial contributor to the EU and will remain so as an independent member. We have more top universities, per head, than any other member of the EU and our academics collaborate with partners across Europe.
"We have one of the largest national shares of Europe's total fishing grounds and 12 national fleets fish in our waters. The EU's fisheries policy would unravel without Scotland."
Pro-Union parties have raised concerns about the "uncertainty" they claim a "Yes" vote in the Scottish independence referendum could create within the EU.
Dr Ian Duncan of the Scottish Conservatives said: "Alex Salmond sees the issue of EU membership in Scottish terms, but fails to appreciate the view from across Europe.
"For some countries it will be a question of how they will benefit from any future negotiations.
"For all Mr Salmond asserts that Scotland is the lynchpin on Europe, there are many member states nervous about the threat of their own separatist movements, whether Spain, Belgium, Italy.
"The only thing that is clear at the moment is that a vote for separation in September is a vote for uncertainty, doubt and erosion of all that Scotland holds as a constituent member of the UK."