Scotland's referendum: Alexander outlines 'ludicrous myths' of independence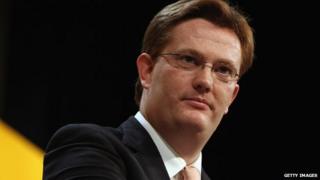 A UK Treasury minister has told an audience of businesspeople that there are "ludicrous myths" associated with the case for independence.
Danny Alexander said there was more evidence for the Loch Ness monster than for some claims and calculations.
Before the speech, Scotland's Finance Secretary John Swinney called on the UK Treasury to say what share of UK assets Scotland would have after independence.
Voters in Scotland go to the polls on 18 September.
They will be asked the "yes/no" question: "Should Scotland be an independent country?"
Mr Alexander, who is chief secretary to the Treasury, said he wanted to debunk "myths" put forward by the Scottish government on issues such as oil revenues, currency union and wider finances.
The Liberal Democrat MP for the Highlands said: "There is actually one Scottish myth I absolutely cannot and would not be able to disprove.
"She's about 40-foot long, publicity-shy and she lives in my constituency, and if anyone here today or any of your families wants to come up to Loch Ness and spend a weekend looking out for her they will be very welcome indeed.
"In short, there is more evidence for the Loch Ness monster than there is for many of the calculations and the claims that have been put forward by the nationalists to support their case for separation."
He said Scotland's First Minister Alex Salmond was being "belligerent" by insisting Scotland would be able to strike a deal to continue using sterling in union with the rest of the UK.
Mr Alexander added: "There is also the fantastical claim, made in the White Paper, that an independent Scotland would share a third of the UK's institutions and services despite the fact that this is completely unprecedented anywhere in the world.
"This is a claim we have to listen to whenever an institution crops up that the nationalists haven't had time to think about."
He highlighted oil and gas, and the national deficit, as "the more dangerous economic myths" being put forward.
However, Mr Swinney said the UK Treasury should go public about the assets that would go to Scotland if voters said Yes in September.
The SNP politician explained: "To have a shred of credibility any Westminster analysis should also set out in detail the assets that will be due to Scotland in the event of a vote for independence in September.
"As part its campaign rhetoric we know the UK government talks about Scotland's share of the debt run up by successive Westminster chancellors.
"It cannot be taken seriously if it does not also talk about Scotland's share of assets."
He added: "Scotland's share of UK assets will be realised in a combination of ways - through physical assets, cash transfer and continued use of assets through shared service agreements.
"Assets located elsewhere in the UK will be included in negotiations, as Scotland has contributed to their value over a long period of time. For physical assets like these, the equitable outcome may be to provide Scotland with an appropriate cash share of their value.
"We note with interest preliminary analysis by academics suggesting that on defence alone Scotland may be entitled to draw upon a notional sum of nearly £5bn for physical assets located elsewhere."
The Scottish government's White Paper on independence, published last November, envisions that Scotland would take on a share of the UK's debt, related either to its proportion of the UK population or its "contribution to the UK's finances over the years".