Scottish independence: Questions raised over campaign spending rules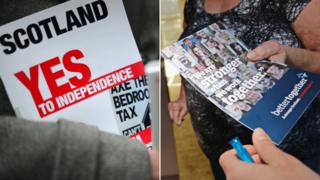 Rules allowing an unlimited number of groups to register to spend up to £150,000 during the Scottish independence referendum's 16-week campaign have been questioned.
The money does not count towards official lead campaign bodies Yes Scotland's or Better Together's £1.5m spending limit - provided organisations do not work together or co-ordinate their activity.
Navraj Singh Ghaleigh, lecturer in law at Edinburgh University, has questioned the funding rules.
He said: "There is a genuine issue with splintering - whereby one big group has its funds limited, and therefore splinters into different organisations in order to spend more."
The number of campaign organisations registering with the Electoral Commission is expected to double by the end of the week.
The rules around registration include;
the groups being UK-based
they plan to spend more than £10,000 and up to £150,000
that they make their campaign spending details and loans available to the Electoral Commission for scrutiny
there is no registration deadline
A new grassroots pro-Union group called No Borders launches later to make what it says is an "emotional" appeal to voters.
Its spokesman, Malcolm Offord, is an investment banker originally from Greenock who now works in London and Scotland. He said the group's aim was to engage with voters' emotions and promote "ordinary voices".
Mr Offord told the BBC: "It is going to allow people to tell their stories. These are not polished political voices but they are from local communities within Scotland and they are going to give the reasons why they want to keep the Union."
Grassroots support
The No Borders campaign is hoping to raise £400,000 through individual donations and crowd funding and it plans to spend almost all of that before the official referendum period begins on 30 May.
The Scottish Independence Convention (SIC) has also officially registered.
Mike Small of the SIC said the campaign for a Yes vote had strong grassroots support.
He added: "There are dozens and dozens of yes, independent groups that have erupted as we see the national conversation going forward."
The Electoral Commission confirmed there was no limit on the number of individual organisations that could register, nor the amount they could spend before 30 May.
Its spokeswoman added that permitted participants could buy materials now that they specifically intended to use during the 16-week campaign period.
She explained: "Many individuals and organisations will have a strong interest in the outcome of the referendum and will want to put their views to voters.
"There should be no barriers to campaigners putting forward arguments for either referendum outcome and the rules do not limit the number of campaigners who can register on each side of the debate.
"However, it is important for voters to have transparency about how campaigns are funded and what they spend their money on and anyone intending to spend over £10,000 on campaigning in the referendum period will need to ensure they understand and comply with the reporting rules."