Scottish independence: Call for UK cities to be given greater powers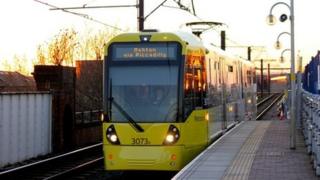 Handing greater powers to the UK's cities would be a more radical change than Scottish independence, according to the leaders of eight large English local authorities
The Core Cities Group made the plea for greater devolution to the cities as it met in Glasgow for the first time.
Enhancing their economic powers would help cities create jobs and grow their economies, they said.
Supporters of independence believe it would rebalance the economy of the UK.
The Core Cities Group was invited to Scotland by Glasgow City Council leader Gordon Matheson.
It is made up of the leaders of the city councils of Birmingham, Bristol, Leeds, Liverpool, Manchester, Newcastle, Nottingham and Sheffield.
Seven of the eight authorities are Labour-run, with Bristol led by a coalition. Mr Matheson is also a Labour councillor.
Last month, Labour leader Ed Miliband promised English cities more powers over transport, housing and employment to help close the "productivity gap" with London.
The coalition government has introduced Enterprise Zones, City Deals, Local Enterprise Partnerships and the Regional Growth Fund since 2010 in an effort to boost economic development in the English regions.
In a letter to the Herald newspaper, the eight English authority leaders argued that the UK's cities needed "better connectivity rather than greater separation".
They said that "big British cities share a great deal in common" and should have a "shared future as the drivers of the UK economy".
They added: "While the question of independence is one for the people of Scotland, we need to add our voices to those who believe that devolving more power to cities to let them create jobs and grow their economies is a more radical constitutional agenda than establishing a border at Carlisle.
"This challenges the centralising tendencies of all governments, whether in Westminster or Holyrood.
"We are in favour of radical constitutional change. But this cannot merely be left to a tussle between parliaments."
'Economic counterweight'
They called for more joint working between cities across the UK, highlighting the planned high-speed railway line as a project where different authorities will work in partnership to "make life better for people and businesses in every UK city".
This, the group says, should be "our shared vision", stressing that "a new age of cities offers a truly radical and exciting vision for a wealthier, fairer and more balanced Britain".
Mr Matheson claimed Glasgow had "more in common with cities such as Liverpool and Manchester than we do with much of the rest of Scotland", and described the comments by the Core Cities Group as a "powerful intervention against separatism".
He added: "The issues they (English cities) face from an over-dominant London economy and government centralisation are the same that Glasgow faces.
"The answer is to radically devolve power and resources to city regions across Britain so we can grow our economies and make a bigger contribution to GDP".
In a speech given in Carlisle on St George's Day, Scottish First Minister Alex Salmond said an independent Scotland would be an "economic counterweight to London and the south east of England".
Responding to the letter by the Core Cities Group, a spokesman for the first minister said: "In his speech the First Minister announced a feasibility study on work on high-speed rail beginning from north to south - rather than waiting 30 years for it to be delivered by Westminster.
"After a Yes vote we will host a series of special forums on economic co-operation with the north of England, inviting representatives from local authorities and business organisations in the north of England to participate.
"While the Westminster parties are content for the dominance of London and the South East to continue, an independent Scotland can become a powerful economic counterweight to the gravitational pull of London, helping rebalance growth across the British isles."