MSPs express concern over civil justice shake-up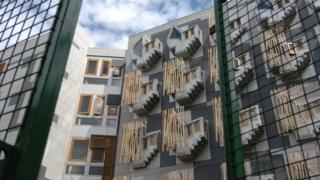 A planned government shake-up to improve access to Scotland's civil court system may not meet all the aims it has set out, MSPs have said.
Holyrood's justice committee backed the reforms in principle, but called for further clarification in some areas.
It also said plans to increase the financial threshold for sheriffs hearing cases from £5,000 to £150,000 would set the level too high.
The Scottish government welcomed the committee's endorsement of the reforms.
Ministers brought forward their Courts Reform Bill after a review concluded the service they provided was "slow, inefficient and expensive".
They said its reforms would free up the Court of Session to deal with the most complex and serious cases.
Justice committee convener and SNP MSP Christine Grahame, said: "There can be no doubt from the evidence we heard that reform of the Scottish civil court system is long overdue.
"However, our committee is not convinced that some of the measures in the bill will necessarily achieve what is hoped."
'Low-value cases'
MSPs said the evidence on which the £150,000 threshold was based "seemed anecdotal", and said the government should cut the limit.
And the committee asked ministers for further clarification on how a proposed new specialist personal injury court would work, given people would still have the option of raising such claims in their sheriff court.
A Scottish government spokeswoman said of the £150,000 threshold, which was recommended by the Scottish Civil Courts Review: "It is important to ensure that any new limit set for cases being raised in the sheriff court reflects the fact that at present too many low-value cases are being raised unnecessarily in the Court of Session.
"This results in increased costs for all parties involved and deters other kinds of litigation from being raised there."
The government also said it believed there was sufficient capacity in the sheriff court system to deal with the expected transfer of around 2,700 cases from the Court of Session.
James Wolffe QC, the Dean of the Faculty of Advocates, said he was "pleased" the concerns the faculty and others had expressed about certain aspects of the bill had been recognised.
Fiona Robb, secretary to the Law Society of Scotland's Civil Justice Committee, said ministers were right to raise the threshold, but called for the limit to be set at £50,000, rather than £150,00.