Scottish independence: Kirk offers post-vote 'healing' service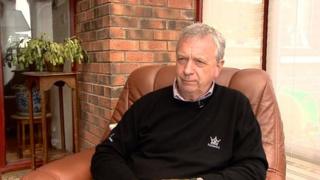 Leaders from all sides of the referendum campaign have been invited to a Church of Scotland reconciliation service three days after the vote.
The service, at Edinburgh's St Giles' Cathedral on 21 September, will focus on healing divisions and building the future together, the church said.
Moderator Designate Rev John Chalmers said there was a danger the referendum would set people against each other.
The Church said it hoped similar services would be held across Scotland.
It said its service would highlight the need to put differences aside and begin working with each other, whatever the outcome of the vote on 18 September.
'Score points'
Rev Chalmers said that in the coming months there was a danger the referendum would set communities and families against each other.
He told BBC Scotland: "Reconciliation is the business of the church. So it seems fitting, at a time when people are taking sides and passions are running high, that we should prepare for the day after this is all over.
"I hope that reconciliation won't be the biggest part of the service. I hope that expressing our magnanimity in victory or defeat, or expressing our commitment to working together for the future of Scotland will be the biggest part of it.
"The danger is if we don't keep the level of this debate down to a respectful place, where we listen to one another, where we don't try to score points by name-calling, where the language doesn't get too emotive and sticks to substance, then the business of healing will be a lot harder afterwards.
"All of the politicians need to remember that if we keep the debate respectful at this time, there's much more chance that we will find it possible to work together afterwards, to build whatever the voters give us."
'Good faith'
A spokesman for Yes Scotland said whatever the outcome of the vote, it would be incumbent on people on both sides of the debate to co-operate for the benefit of the country.
"When we receive the invitation from the Church of Scotland we will be pleased to accept," he added.
A Better Together spokesman said: "Regardless of which way we vote as individuals, nobody should doubt the good faith of anybody in this debate.
"We all love Scotland and want to see the best future for our country, but we can respectfully disagree about how we achieve that."
Rev Chalmers takes up office as Moderator of the General Assembly of the Church of Scotland on 17 May.