Police Scotland savings need clarification, says Holyrood committee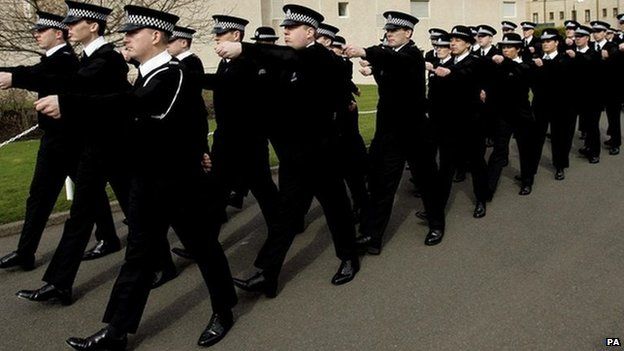 More information on the money saved by merging Scotland's eight police forces is needed, an inquiry has said.
The Scottish Parliament's cross-party audit committee said "clarification" was needed on longer-term savings.
Findings by Labour, Conservative and Lib Dem members were more critical than those agreed by the SNP majority.
Scotland's regional police forces were merged into a single, national force in April 2013, under government plans to save £1.1bn by 2026 without hitting frontline services.
While the audit committee report asked the Scottish Police Authority (SPA) watchdog for "clarification" on savings, a "dissenting statement" by Labour members Hugh Henry and Ken Macintosh, as well as Conservative Mary Scanlon and Liberal Democrat Tavish Scott, said savings achieved so far by Police Scotland may be "short term and not sustainable".
The report acknowledged the police force was on track to deliver savings targets for 2013-14, adding: "The committee would welcome clarification from the SPA of how the savings delivered in 2013-14, particularly those identified as recurring, sit within the longer-term savings plans set out in the financial and corporate strategies and that they are sustainable until 2026."
However, the dissenting part concluded: "These savings have been made in the absence of agreed longer-term financial and corporate strategies and there is a risk therefore that the savings that have been delivered are short-term and not sustainable."
In a joint statement, Mr Henry and Ms Scanlon - the convener and deputy convener of the audit committee - and the other opposition party members said: "It is not the job of a committee of the Scottish Parliament to seek to put a flattering interpretation on the actions of the Scottish government.
"For committees to be effective and credible, they need to report what they find, irrespective of any embarrassment to any one political party."
The statement added: "It is unfortunate, in our opinion, that on this occasion, the audit committee has not lived up to expectations."
Elsewhere, the committee said clarity was needed on confusion about plans for a full business case for the merger, after the inquiry heard one was not carried out.
It also raised concern that a lack of data "hampered" production of a financial strategy.
Police Scotland deputy chief constable Neil Richardson said the force would work with the SPA to respond to the recommendations.
He added: "Police Scotland has already delivered our £64m savings for the first year and, through our financial planning, are confident of delivering the further cost reductions required."
SPA Chief Executive John Foley, added: "The report on which the committee based its considerations reflects where policing was last August, just six months into the life of the new arrangements. Considerable further progress has been made since that point.
"There is now a strong consensus on respective roles and responsibilities between Police Scotland, the authority and Scottish government.
"The quality of financial and performance information to support governance and scrutiny is improving in both content and presentation."
Scottish Justice Secretary Kenny MacAskill said the operation of Holyrood committees was a matter for the Scottish Parliament.
He added: "The establishment of Police Scotland is safeguarding local policing from Westminster budget cuts, while ensuring all parts of Scotland have access to specialist equipment and expertise whenever and wherever required.
"Police Scotland and the Scottish Police Authority have also worked hard in the past year to clarify their respective roles and responsibilities, implementing appropriate governance arrangements and building productive working relationships."
Related Internet Links
The BBC is not responsible for the content of external sites.