FM refuses to sack Health Secretary Alex Neil over conflict claim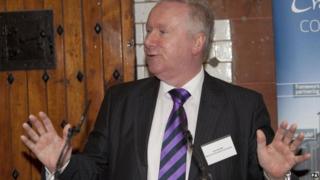 First Minister Alex Salmond has dismissed opposition demands to sack his health secretary after he was accused of "deceiving" parliament.
Labour leader Johann Lamont's call came after saying Alex Neil inappropriately stepped in to reverse mental health provision cuts in his constituency.
Mr Salmond said he had looked into the matter and insisted Mr Neil acted "perfectly properly".
The case, raised during first minister's questions, dates to 2012.
Ms Lamont said Mr Neil decided to reverse a decision to remove acute mental health bed provision at Monklands Hospital, in his Airdrie and Shotts constituency, made by his predecessor as health secretary, Nicola Sturgeon.
The Scottish Labour leader said documents obtained under freedom of information laws showed that, on 26 September 2012, Mr Neil's office emailed officials stating the health secretary was "clear in his view that acute mental health facilities should be retained in both Wishaw and Monklands" hospitals.
'Changes reversed'
Mr Neil subsequently told MSPs he would absent himself from a decision on the services, Ms Lamont said.
She told parliament: "When Alex Neil became health secretary in September 2012, he ordered that the changes be reversed, against medical and patient opinion.
"He then deceived this parliament and deceived the people of Scotland by saying he would take no part in the decision he had already made."
Ms Lamont, who was rebuked by Holyrood Presiding Officer Tricia Marwick for her choice of language, asked Mr Salmond: "If Alex Neil wont resign for deceiving parliament, will the first minister sack him?"
Mr Salmond replied: "The answer is no."
The first minister said he previously looked into the issue on 14 February, 2013, giving a substantial reply at the time.
Conflict claim
He said that, following questions on the issue in parliament on 26 September 2012, Mr Neil became concerned of a perception of a conflict of interest, agreeing that day that issues relating to mental health services at Monklands should be dealt by Public Health Minister Michael Matheson.
Mr Salmond added: "That is exactly how ministers should behave under these circumstances.
"I looked at the issue carefully last year. I came to the conclusion Mr Neil had acted perfectly properly."
The first minister added later: "It's quite clear that the Labour party's interest in mental health in Lanarkshire isn't anything to do with facilities for the patients - it's just an argument to try and get at an SNP minister."