Polls apart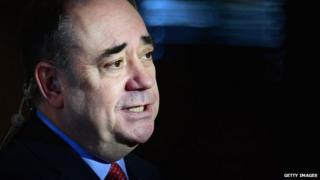 We are not there, declares Alex Salmond in a BBC News Channel interview. We have never said that we are there, he adds. But, he concludes, we are getting there.
The first minister - who will feature at length on Reporting Scotland tonight - is, of course, talking about the independence referendum.
In the same interview, he was asked about a Daily Record poll which, reportedly, suggested that some were deterred from voting for independence because of Salmond, A.
Not so, he averred. The poll asked whether popular opinion would be shifted by the prospect of Alex Salmond being "prime minister" in an independent Scotland. Mr Salmond said that his own opinion would be unchanged on the broader question of independence.
If, he said, his own vote was unmoved by the prospect that he himself might or might not be first minister (the preferred term), then was it just feasible that the survey was less than startling? Mr Salmond noted further that unpublished content from the same survey suggested a substantial lead for the SNP in electoral voting intention. That would be the SNP he leads.
Core message
Now, he has a point. Indeed, several points. However, it is equally true that those advocating independence have been careful to distinguish that project from the advancement of one individual, however talented.
For two reasons. There will be some who are deterred by an individual politician, however charismatic. Secondly, the core message of the independence advocates is that this is about self-determination: not about the SNP, certainly not about Alex Salmond.
As well as strategy, that is simple arithmetic. Even at their recent peak (thus far), the SNP are short of an overall popular majority. They need all their supporters and then some.
Mr Salmond was commenting in the context of a two-day visit to Scotland by the prime minister. David Cameron's fundamental argument had been that Scotland is strengthened by maintaining links with the wider Union, by retaining UK statehood. That, further, there would be enhanced powers for Holyrood.
Alex Salmond's fundamental argument is that those links are overwhelming, that they have resulted in UK governments of a colour different from and arguably inimical to the wishes of the Scottish people. That Scotland is best governed by those who live and work here.
PS: If you will forgive me, my attention may wander a fraction from the referendum and the European elections over the weekend. In short, come away United!