Tricia Marwick: Keeping MSPs in check, living with cancer and being a geek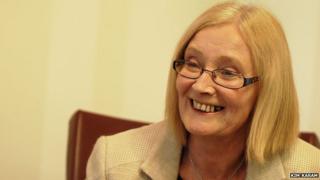 As part of a series of conversations with high-profile women during a crucial year for Scotland, Holyrood's Presiding Officer Tricia Marwick speaks to the BBC's Marianne Taylor about keeping MSPs in check, how she's faced cancer and being a geek.

Ask Tricia Marwick which part of her job as the Scottish Parliament's presiding officer she enjoys most, and you may be surprised by the answer.
Rather than highlight visits from royalty, dinners with global dignitaries, or the chance to keep party leaders in check in the chamber, Mrs Marwick doesn't blink before saying "procedure".
We're sitting in Holyrood, admiring the Scottish colourist paintings that have just been lent to the parliament, drinking tea and eating teacakes.
The presiding officer bursts out laughing as she admits to being "a geek" when it comes to the minutiae of bills, amendments, standing orders and motions.
She told me: "I just really love the process and the procedure.
"When I became presiding officer not everyone recognised the back story I had within the parliament, as a business manager for the SNP and a member of the corporate body. It stood me in good stead for doing this job."
For many outside the Holyrood bubble, Mrs Marwick is simply the impartial chairwoman who demands "order" when MSPs get rowdy in the chamber during First Minister's Questions. She refers to it as "the theatre" of the job.
But keeping politicians in order is only a small part of the role that the 60-year-old from Fife has held for three years, the first woman to do so since the Scottish Parliament opened in 1999.
She proudly points to the number of high-profile women at Holyrood including Deputy First Minister Nicola Sturgeon, Scottish Labour Leader Johann Lamont and the leader of the Scottish Conservatives, Ruth Davidson.
Mrs Marwick says: "We are so blessed at the moment that we've got so many prominent women.
"To have two party leaders, the deputy first minister, the presiding officer and the deputy presiding officer is fantastic. All are role models and all are there on merit."
Funny, warm, articulate and tenacious - with 15 years as an MSP under her belt - it's easy to imagine Mrs Marwick working doggedly behind the scenes to get results.
The scope of the job is massive, from seeing government policy through the legislative process to the administration and management of the parliament and its people - and just about everything in between.
She is also the constituency MSP for Central Fife.
In conversation with...
Read our other interviews with high-profile women in Scotland - Scottish Tory leader Ruth Davidson talks of the possibility of a career outside politics; Scottish Labour leader Johann Lamont speaks about her "accidental" move into frontline politics. And Deputy First Minister Nicola Sturgeon reflects on the big responsibilities of power.
Mrs Marwick, who is married and has two children and two grandchildren, admits being presiding officer is a "lonely" job. She says "no one is quite your friend any more, all the relationships change", but also refers to it as "a joy and a privilege".
She admits there have been "difficult decisions" during her tenure, including;
how best to deal with MSPs who receive jail sentences, prompted by the conviction of now former MSP Bill Walker for domestic violence (the committee she chairs decided their salary should be docked)
deciding that MSP wages should rise in line with those of public sector workers rather than Westminster MPs
and spending more money on security in the building.
She is also responsible for Holyrood innovations such as the weekly topical questions session, where ministers get a grilling from MSPs on issues in the news, and has shaken up first minister's questions to allow more time for backbenchers.
Mrs Marwick, who resigned her membership of the SNP following her election as presiding officer, as is the custom, also represents the Scottish Parliament on the world stage.
Political passion
She says every presiding officer has his or her own style. So how does she handle it when the debate in the chamber gets heated?
"I think sometimes a bit of humour in the chair helps," she explains.
"You can't just be on everybody's back all the time, but they need to recognise that you're not going to stand any nonsense. I think it's about trying to have a light touch but also make sure people understand that you won't tolerate too much."
She says she should never be "the story".
The presiding officer adds: "But politics must be about passion.
"If there's no passion, what's the point? Politics is about difference, and it's my job to make sure those points of view are put across."
Those differences have sometimes reached boiling point in the run up to this September's independence referendum.
Asked whether she thought there would need to be a process of healing once the result was known, Mrs Marwick talks of the aftermath of Scotland's previous referendums, in 1997 and 1979, and says there will be a "coming together".
She says: "In 1979 when Scotland voted for an assembly and it was denied, people came together.
"In 1997 there were Conservatives who were passionately opposed to the creation of a Scottish Parliament. The coming together that we saw after both of these referendums, we will see again. I am absolutely confident of that.
"Scotland's constitutional journey has been an entirely democratic process, and I am absolutely confident, knowing the politicians in this parliament, that regardless of the outcome they will accept it.
She adds: "Scotland is an inspiration to countries throughout the world because our constitutional journey has been conducted entirely through the democratic process and will continue to be so.
"It's a unique journey and we need to recognise and celebrate that."
Pastoral role
As evidence of Holyrood's ability to come together, Mrs Marwick points to the parliament's motion of condolence, which she describes as "the parliament at its finest".
Sadly, the motion has had to be called four times in the last 14 months, following the deaths of four sitting MSPs: the SNP's Brian Adam, David McLetchie, the former leader of the Scottish Conservatives, Labour's Helen Eadie and the independent MSP Margo MacDonald.
Mrs Marwick says: "As presiding officer I have a pastoral role.
"We work very hard to support members who have been ill, as well as their staff and families. That's been quite difficult for all of us. But the motion of condolence that we do is probably the parliament at its finest. The barriers are broken down and people just reflect on the lives well lived and good, decent people."
All four of the MSPs who died were from the "class of '99", reflects the presiding officer.
Serious illness is something that Mrs Marwick herself has had to face in the last 18 months, following two major operations - one to remove her gall bladder, the other just months later to remove a tumour in the bowel.
She says it was "a shock", but adds that she feels much better, has regained her energy "at the right time" and recognises how lucky she was that the operation to remove the tumour was successful.
There is nothing complacent about her recovery, however, and the presiding officer also admits she often felt extremely ill at work for months before the bowel surgery.
She says: "You can never be confident that it's over and done with. Maybe when I get to 10 years [clear of cancer] I'll think I'm out of the woods. But until you get through a certain period you always worry that it has spread.
"Bowel cancer is one of the most difficult to detect and when you do detect it, usually it has spread. I had none of that - I recognise how lucky I am. Everybody here has been so kind and my constituents have been wonderful."
The constituency of Central Fife is clearly important to this local girl from Cowdenbeath, the daughter of a miner, who now lives in Markinch.
She says: "It's where I live, it's where my kids were born and brought up, went to school. Frankly, I didn't want to represent anywhere other than my home constituency. When I won in 2007, it was just wonderful."
Asked how she relaxes, Mrs Marwick admits that she's never been one for hobbies. The only time she truly ever switches off, she says, is when playing with her two grandchildren, Odhrán, aged nine, and Róisín, four.
"Despite everything her mother is trying to do, Róisín is a princess," she laughs.
"We like to play at princesses and queens. She says 'you're the princess, granny.' I say, 'no, you're the princess and I'm the queen'. She'll make a great politician."