Scottish independence: Alex Salmond sets out post-Yes vision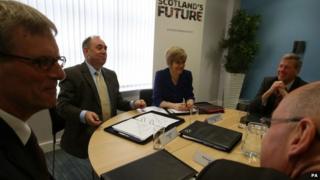 Scotland would become independent "in more promising circumstances than virtually any nation in history", the first minister has said.
Alex Salmond put forward his arguments for independence during a public meeting of the Scottish cabinet.
His speech came the day before the publication of a Treasury analysis paper.
It will set out the amount the Treasury says will be saved by people in Scotland if they reject independence.
The Scottish government will also unveil its own analysis, which it said would demonstrate "Scotland's financial strengths and the economic opportunities that only come with independence".
At the cabinet meeting in Rutherglen, South Lanarkshire, Mr Salmond argued that the powers of independence would create "sustainable prosperity across the whole of Scotland".
He explained: "If we vote Yes in September then Scotland will become independent in more promising circumstances than virtually any nation in history."
Mr Salmond said Scotland had contributed more in taxes, per person, than the rest of the UK for every single one of the past 33 years.
He added that Scotland's public finances had been healthier than the UK's by £8.3bn - or nearly £1,600 per person - over the past five years.
The first minister told the gathering: "We would be among the wealthiest nations in the OECD. Scotland would be 14th on the list, with the UK at 18th.
"Seven out of the ten wealthiest countries in the developed world have populations similar to, or smaller than, Scotland."
Scotland also has "extraordinary potential" in areas such as engineering, life sciences and energy, Mr Salmond insisted.
The referendum on Scottish independence will be held on 18 September, when voters will be asked the Yes/No question: "Should Scotland be an independent country?"
'Best of both worlds'
Scottish Labour MSP Jackie Baillie said: "This is yet more of the same divisive and negative politics from Alex Salmond.
"He [Mr Salmond] should spend less time telling us why he hates the UK and more time being honest about the consequences of separation.
"Maybe if the first minister had credible answers about what would replace the pound, how our pensions would be paid and what would happen to the funding for our schools and hospitals if we left the UK, his separatist campaign wouldn't be trailing so badly in the polls.
"As part of the UK we can have the best of both worlds - a strong Scottish Parliament, with the guarantee of more powers, backed up by the strength, security and stability of being part of the larger UK."